This Women's History Month, we are proud to announce our latest campaign to empower girls through STEM education. The Museum of Science and EiE are partnering with public school districts and community organizations across the US to provide girls with access to EiE storybooks!
Our digital storybooks for 1-5th graders feature dynamic female characters from across the globe as they tackle engineering design challenges and create solutions that improve their lives and the lives of those around them.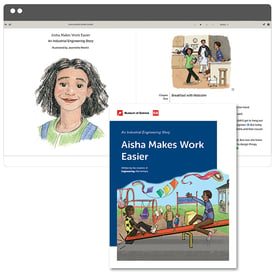 Like Aisha and her cousin Tanya, characters from Aisha Makes Work Easier, who visit Aisha's older brother, Malcolm, at his industrial engineering job in a potato chip factory! After a simple machine scavenger hunt through Boston, Aisha and Tanya learn about how machines can help keep workers safe and the girls design simple machines of their own.
With physical science and industrial engineering basics, this engaging story encourages readers to design systems and processes that make work easier by taking advantage of simple machines.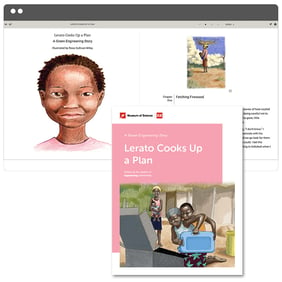 Or Lerato, from Lerato Cooks Up A Plan, which is set in Botswana and introduces Lerato and her family as they go about their daily chores. When a woman from Lerato's village returns for a visit during university break, she tells Lerato about green engineering and gives her a solar oven. If used correctly, the oven could eliminate the chore of gathering firewood. Lerato must use what she knows about heat energy and green engineering to improve the solar oven so it works.
Readers are encouraged to design a solar oven of their own, using green engineering and physical science lessons Lerato learns along the way!
Representation matters. Now more than ever, all children need STEM knowledge and skills to thrive in our increasingly STEM-driven world. But identity barriers often impede access, and women – particularly women of color – are chronically underrepresented in STEM.
Through EiE's storybooks, girls from all backgrounds are inspired and empowered by the achievements and innovations of the characters they see. And, with content backed by our proven STEM curricula, we know they're gaining the fundamental knowledge to build on these skills themselves!
For every contribution of $4.99 (one storybook) the Museum will DOUBLE your donation, providing two storybooks for girls in need. Our goal is to raise $250,000 and donate 100,000 books by the end of June, 2021! Click here to Make STEM HerStory and donate today.