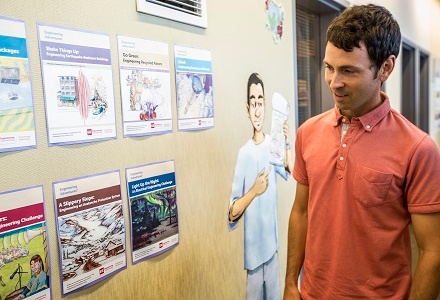 Ross reviews his work, displayed at the EiE offices.
This fall EiE welcomed a special visitor to our Boston offices: illustrator Ross Wiley. If you've been entertained by the offbeat adventures of India and Jacob, the traveling teens who host Engineering Adventures, or fascinated by the exploding corncob on the cover of Plants to Plastics, you have Ross to thank! He created all the illustrations for our two out-of-school-time curricula, along with the cover art and illustrations for eight EiE storybooks and teacher guides.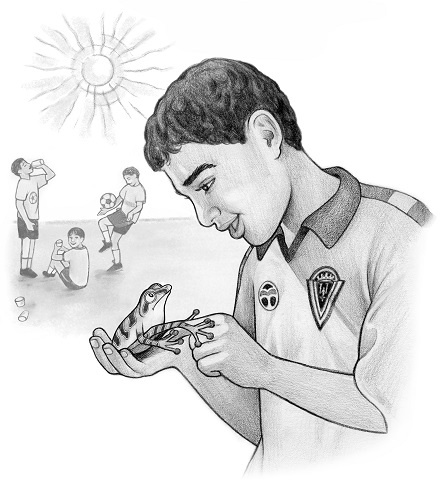 In the story, Juan Daniel rescues a rainforest frog.
The Start of a Beautiful Relationship
Ross and EiE found each other in a thoroughly modern way: on Craigslist. "I was at the beginning of my career, looking for work," Ross says, "and EiE was looking for an entry-level illustrator." To apply, candidates were asked to draw some sample illustrations for the soon-to-be created EiE storybook Juan Daniel's Fûtbol Frog. "That kind of job posting is like a dream," Ross says, "when a client asks you to create something new, instead of showing what you've done in the past. So I swung for all it was worth!"
The Engineering Design Process Applies to Art!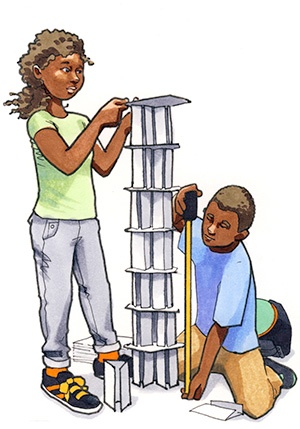 What does an index-card tower look like? Ross researches every project
He hit the ball out of the park . . . and has been contributing to EiE ever since. His process for creating illustrations will sound familiar if you know the EiE Engineering Design Process! Each illustration starts with a phone conversation, to understand the "problem" that the image will "solve." Then Ross carefully researches the subject of the illustration, to be sure he will draw each item and each scene accurately.
"It's amazing what you can learn on Google," he says. "Sometimes I also do a little mock-up of the technology the kids will design, if I am not sure how it all sticks together. With the 'Tarpul' unit, I was walking around outside filling plastic cups with gravel and sand to see how a pencil would stick up. And I cut up some paper to index-card size to try the 'Tower Power' prep lesson."
Plan and Create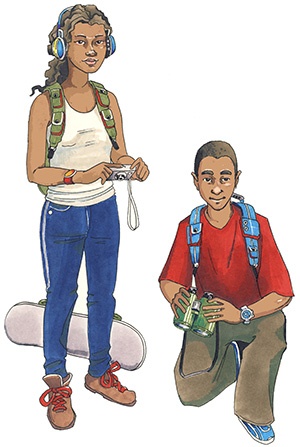 For a couple of middle schoolers, India and Jacob sure have a lot of adventures!
The next step is to make a series of quick sketches. When Engineering Adventures was first being developed, the EiE team asked Ross to brainstorm cartoon-character hosts. "I came up with a whole variety of characters to start, including a wacky professor with frizzy hair," he says. "But when the EiE team ran the sketches past kids from the target demographic to ask, 'Which ones do you think are cool?' they went for India and Jacob, the multicultural 'tweens with the gizmos and gadgets who get around on skateboards because they can't drive yet!"
As for that exploding corncob on the cover of the Engineering Everywhere unit Plants to Plastics? "Usually the team gives me a few ideas to begin with," Ross says, "and when I start drawing them, the process gives me other ideas. In this case I had already drawn a lot of containers—cups and bottles—for different EiE units, and I noticed they were similar in shape to corn kernels. I thought that would be a cool way to show how corn can turn into plastic."
When he finally sits down at his drawing desk, Ross uses what illustrators call the comic book process. "I start with pencil on paper, then use ink for the outlines, then color the illustrations either with markers or colored pencils, or digitally," he explains. A quick sketch can take an hour; a full color cover can require days of work.
Experience as a Teacher Informs the Process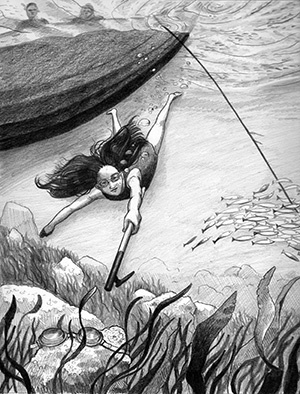 Ross enjoys portraying self-reliant kids like the young diver, Despina.
Besides his work as an illustrator, Ross has another career—as a teacher of English at two different kindergartens in Japan, where he lives with his wife and three young children. He says the teaching experience informs his approach as an artist. "Using illustrations as an educational tool is something that really resonates with me," he says.
We had to ask: Of all the projects you've done for EiE, what's your favorite? "Designing Submersibles," he says with enthusiasm. "Partly it was the beautiful setting—a volcanic island in the middle of the Aegean Sea. But also the scenes in the story were quite varied: on a boat; underwater with the submersible; inside a traditional Greek home. And I liked how the character, Despina, is a strong swimmer who can take the lead in the water even though she uses a wheelchair on land. That really worked well."
As Seen on TV
Besides his work as an EiE illustrator, Ross has a number of other clients, many in education-related fields. Notably, he recently created illustrations for 40 episodes of "Eigo de Asobo" ("Let's Play in English,") a show for young children that is broadcast on Japan's public television network—and wildly popular among two- to five-year-olds.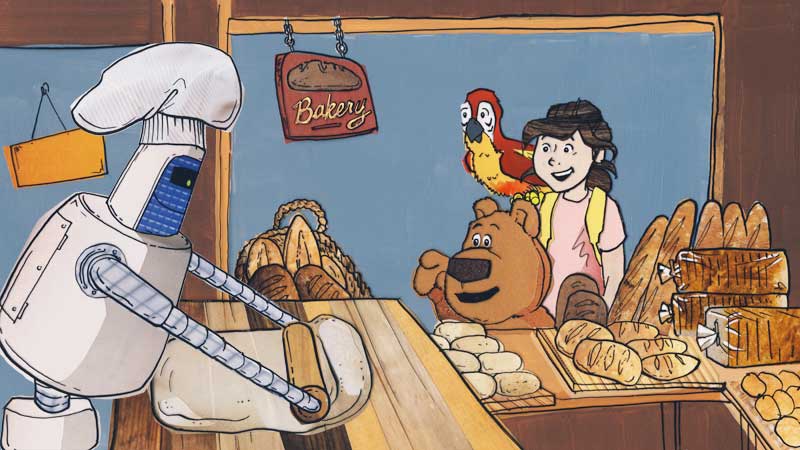 One of Ross's illustrations for the TV show "Let's Play."
"The show helps kids learn English," he says. "It opens with a host saying 'Let's read together,' and opening a picture book. I did the illustrations you see in the book—and a lot of the writing—for episodes about a little girl and her talking Teddy bear. Each week they'd have a different adventure, with the theme of developing self-reliance."
Having adventures . . . developing literacy skills . . . becoming self-reliant . . . it sounds a lot like what happens when kids engineer!
P.S.
This is not the end of the story. More Engineering Adventures and Engineering Everywhere units are still in the pipeline. So if you enjoy the inventive, colorful work of Ross Sullivan Wiley, stay tuned for more of his engaging illustrations!
Engineering is Elementary is a project of the National Center for Technological Literacy® at the Museum of Science, Boston.