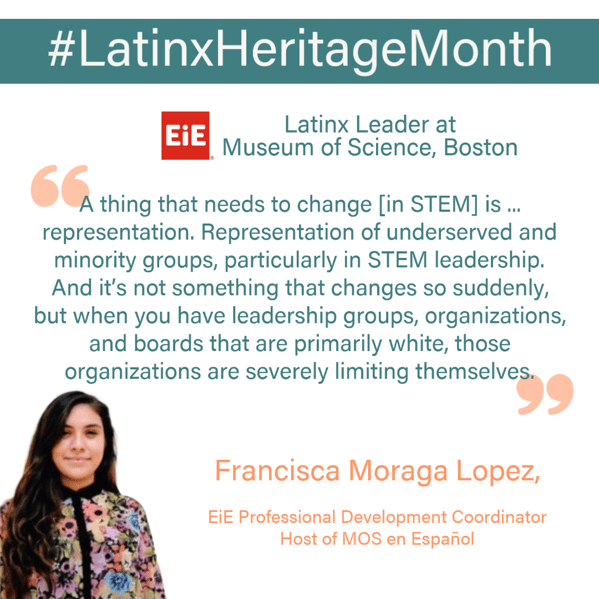 In honor of Latinx Heritage Month, we're excited to highlight some of our incredible team members of Latin American heritage! Meet Francisca, our Professional Development and Special Event Coordinator:
Listen to the interview recording
What's your name? My name is Francisca Moraga Lopez.
How long have you worked at the museum? What do you do? I am the Professional Development Coordinator for EiE at the Museum, but I am also a Visitor Services Sales Rep, and a Function Coordinator with Events and Conference Services. And now I also, I guess, am a presenter with MOS en Español, so a couple of different hats. I started in 2017 with visitor services and I've been with EiE for a little over a year.
What words do you use to describe your Latin American heritage? I think, personally, I am not Chilean-American. My brother identifies as that, and I think about it a lot but, for me, I am first and foremost, Chilean.
How does being Chilean influence your life? That's just such a big part of my identity, you know, my family and I are from Chile. I'm a first generation immigrant. I was born there. And even though we've been here for like 21 years now, and I've been here physically more than in Chile, I've only been a citizen for the past six years so that, I think for me, is just an important part of identity. And it wasn't really until senior year in high school and college where I became more aware of my experience and where I was living. I came from Prospect Hill Academy, which was a super colorful, diverse group of students, and that was my lived experience. So that way, when I went to college and everything was so white, it was a really extreme culture shock for me. And so that's where, you know, these groups on campus Vista, our Latinx affinity group, was just really important for me and was part of me gaining this awareness of like, you know, I'm Chilean, I'm Latina, I'm a person of color.
What does your identity mean to you in your work? So being Chilean and, as such, being a Spanish-speaker means a lot to me in my work and in what I do, because I carry it so strongly, I guess. I am always like, "Is this available in Spanish? How is this going to be received by a Spanish-speaking family?" I think since my time working in a cafeteria at Tufts University, the Spanish-speaking has always just been my "plus". I could talk to the international students. I can just reach a bigger audience working in museums. I've been able to do tours to kids learning English. And I was an English-learner as well. So being able to have that experience and the knowledge of Spanish and what it is to be a learner of another language, I think just has helped me in all my work.
What inspired you to go into STEM? I like to think of it as like, I didn't pursue a career in STEM, but STEM came to me and pursued me. I think there's an exact idiom for that, but English is not my first language, so I'm not sure of it. Growing up, we traveled all over the East Coast in our car and my parents always took us to museums, like weird little history museums here and there, but also like the Intrepid where we saw, that air carrier thing in New York and the MET and the Museum of Science. I've always been like those really big nerds, a really big geek. And so I love learning. And in these museums, I got to learn things that were not accessible to me at school, or weren't just not being taught to me at school. So for me, museums are super important and art museums were like, particularly my happy place. So I studied Art History at Williams College. And once I graduated, I knew that I needed to go, that I wanted to work in museums because I needed to be in a place that gave me so much so that I could, you know, be that person and fill the gap and give back.
What opportunities for growth do you see in STEM right now? I've definitely been thinking a lot about what changes could be made in STEM and towards the future. And I think there's really two big things that stand out to me. One, particularly, just in terms of education and access. How can we, specifically in this time there's kids -- and I would have been one of them -- who have, who don't have, can't be home all day by themselves? So I would have been in a van with my dad doing deliveries all over the city and maybe not even attending virtual class or being able to attend virtual class when I needed to. I take a lot from my personal experiences in my work, but how can we help those students?
And then I think the second thing that I think really just needs to change is this representation. Representation of under-served and minority groups, particularly in STEM leadership, you know. And it's not something that changes so suddenly, but when you have leadership groups, organizations, and boards that are primarily white, those organizations are severely limiting themselves. They're not doing their best work because they're lacking in perspective and they're lacking in experiences. And, there's only so much we can learn and we can read and we can study and we can do research, but that does not replace a person, an actual person, a person who's lived experience can speak to it a little bit more. And just being able to have that range of perspective in leadership is so important. I think it is just something that needs to change.
What inspires you about the future of STEM? I think my inspiration lately has come a lot from the feedback we've been receiving from our EiE Families Spanish Language Activities, from the Facebook comments, or even just like the Zoom comments that come in during our live shows in MOS en Español. And just hearing people, just being so genuinely thankful for just providing this kind of resource. And what's really cool about MOS en Español is that we're seeing people from all over the world. We still have some research to do in our local audiences, but on Zoom we have people from Costa Rica and Peru and all over. Maybe it's not something that's just lacking here in the United States, but that, you know, just more people talking about STEM and other languages, that look different. It's just something that is needed all over. And it's just really helpful to hear that people are actually tuning in, and finding us so helpful, and that people are watching with their kids and their kids are getting to practice their Spanish with us.