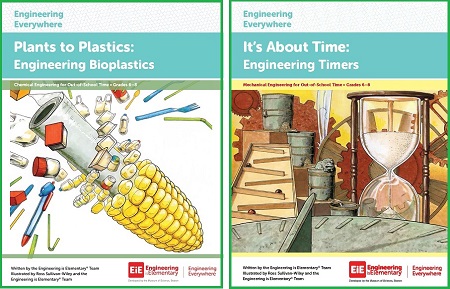 Just in time for summer camp, EiE's Engineering Everywhere curriculum has two new hands-on curriculum units designed for middle school-aged engineers:
"It's About Time" poses a mechanical engineering challenge: Design your own timekeeping device
"Plants to Plastics" is a chemical engineering challenge: Make plastic from ecofriendly plant-based materials
"The new units were a lot of fun to make, and a real team effort," says EiE curriculum developer Owen Berliner. "'It's About Time' challenges you to engineer a water clock that keeps track of time with dripping water—but first, you explore why we need timekeeping devices, and how engineers throughout history have developed different kinds of technologies to track time. 'Plants to Plastics' explores one problem with petroleum-based plastics: they don't biodegrade, so they pile up in landfills. The challenge is to create a novel bioplastic from plant-based ingredients like agar and cornstarch."
Engineering Videos Take You on a Virtual Visit
Each of the new units uses a short, documentary-style video, produced by EiE, to set a real-world context for the engineering activities. "You follow a young aspiring engineer who's learning how a professional engineer uses the Engineering Design Process in day-to-day work," Berliner explains.
The "Plants to Plastics" video (above) takes viewers on a virtual visit to Metabolix, a Boston-area company that makes specialized biodegradable plastics. The "It's About Time" video (below) takes a tour of the Electric Time Company in Medfield, MA. The company makes large clocks for public spaces.
Like every curriculum unit designed by EiE, the new units were rigorously pilot tested in programs around the country. "I watched one group of middle schoolers working on the 'It's About Time' unit, and it was really obvious they were engaged and excited about trying new designs," Berliner said. "When their first water clock failed, they were eager to try new things: Should the water vessel be bigger? Should the hole where the water drips out be bigger? Should the hole be drilled in a different location? They were clearly learning a lot—AND having fun."
Afterschool Programming that's FUN and FREE
Like the four Engineering Everywhere units previously released, these new units are available as free downloads on the project website. While you're on the site, subscribe to Afterschool Engineering Update, our free, quarterly newsletter, to get teaching tips, project news, and announcements when other new resources are available.
Engineering is Elementary is a project of the National Center for Technological Literacy® at the Museum of Science, Boston.