Recent changes in Massachusetts academic standards mean that teachers in the state will be integrating more engineering content and practices with the science lessons they teach.This new expectation for STEM instruction can be uncomfortable for elementary teachers, who don't usually take engineering coursework as part of their teacher preparation.
A recent grant to the Museum of Science, Boston by the information technology company Oracle will help 20 Massachusetts educators boost their classroom engineering skills as they learn to use the award-winning Engineering is Elementary curriculum, developed at the Museum's National Center for Technological Literacy®
Building on a Strong Foundation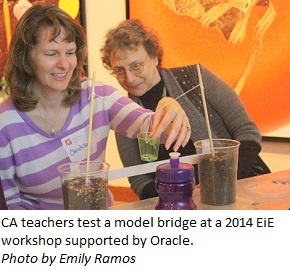 This is the second year in a row that Oracle has supported EiE PD for elementary educators. Last year, a grant from Oracle allowed 40 California teachers to attend an EiE workshop at The Tech Museum of Innovation in San Jose. The grant also supported three PD workshops for afterschool educators, who learned to use EiE's Engineering Adventures curriculum, designed for students in grades 3 - 5 in out-of-school time programs.
The 2015 grant from Oracle underwrites tuition for teachers to attend an EiE professional development (PD) workshop at the Museum of Science, Boston. Each teacher will also receive a complete set of EiE classroom materials.
Teacher Applications Accepted NOW!
The PD scholarships will be awarded on a competitive basis, and we're accepting applications NOW! You have until July 8th to apply. Please share the news with Massachusetts afterschool educators who could benefit.