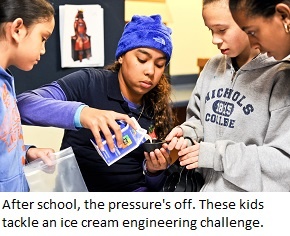 EiE's out-of-school time (OST) curriculum Engineering Everywhere (EE) has two new units that are sure to intrigue and engage middle schoolers in your program. Both units feature cutting-edge topics that track the newest developments in engineering fields:
OST programs can be the key to holding middle schoolers' interest in STEM. According to the Afterschool Alliance, the middle school years are a "make-or-break" time for many youth, when students either get excited about learning . . . or get totally turned off, especially about STEM subjects.
When the school day's over, when the pressure's off, when the activities are hands-on and connected to real-life experiences (as they are in these new units), middle schoolers are more likely to get hooked on the excitement and pleasures of science and engineering.
Exploring the Future of Farming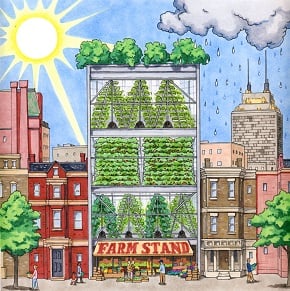 The EE unit Growing Up introduces middle schoolers to agricultural engineering and to a new and literally growing solution to the challenges of feeding the world.
Vertical farms are the hottest new way to supply fresh, local produce to cities, where populations are concentrated far from conventional farms.
Maybe you caught the news that the world's largest vertical farm opened its doors this past summer in, yes, the Garden State, New Jersey. Or perhaps you read this cover story in Newsweek about this new way to farm? The Growing Up unit couldn't be more timely.
Helping Hurt Animals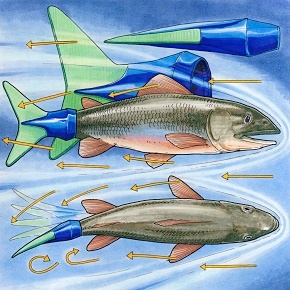 The EE unit Go Fish focuses on the field of biomechanical engineering, where the principles of mechanical engineering are applied to promote health and safety. Recently, biomechanical engineers have made amazing strides with prosthetics (artificial limbs) for animals.
Maybe you saw the story of the flamingo fitted with an artificial leg, or heard about the dolphin that got a whole new tail? The activities in Go Fish let middle schoolers see how engineering is a helping profession as they try their hand at engineering their own model prosthetics for animals, including a new tail for a fish.
Designed Just for Afterschool
Like every EE unit, each of the new units includes six to eight different hands-on activities. They call for easy-to-find materials and can be scheduled flexibly, to meet the needs of your program. And like every EE unit, Vertical Farms and Go Fish start with lively, documentary-style videos that introduce your middle schoolers to real engineers in these fields, setting a context for the activities to follow.
You can download the lesson plans for Growing Up, Go Fish, and eight other EE units on our website. Professional development workshops are also available. Printed Educator Guides and Materials Kits will be coming soon to the EiE Store.
Click to explore the whole collection of Engineering Everywhere units!
Engineering is Elementary is a project of the National Center for Technological Literacy® at the Museum of Science, Boston.