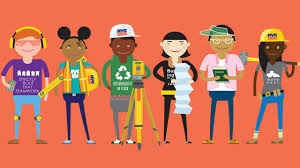 WATCH: NYC DDC "Young Engineers" introduces middle schoolers to hands-on engineering.
"Building for You." That's the slogan of New York City's Department of Design and Construction, which builds the civic facilities city dwellers use every day, from cultural institutions to police precincts to roads, sidewalks, and sewer systems. The agency employs hundreds of engineers, and city officials are thinking ahead to the next generation; recently, DDC launched the "Young Engineers" program with the goal of inspiring students to consider careers in the built environment. At the center of this initiative is a middle-school afterschool program that uses Engineering is Elementary's "Engineering Everywhere" curriculum. This short video shows some of the exciting outcomes!
Expanding Opportunities for Underserved Youth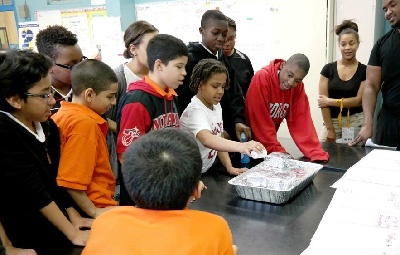 Simulating rain on a model city is one activity in the EE unit Don't Runoff.
"We wanted to expand opportunities for young people who are underrepresented in the science and technology fields, particularly women and minorities, by getting them interested in the built environment at a much younger age," says Lee Llambelis, DDC's Deputy Commissioner for Community Partnerships and STEAM (Science, Technology, Engineering, Art/Architecture and Math) Initiative. "These are the careers of the future, and middle school is where you can really have an impact on career choices."
Looking for the right curriculum for the program, Llambelis and her team started with a simple internet search on the key words "STEAM" and "middle school curriculum." Engineering Everywhere came right up. Developed by the EiE project at the Museum of Science, Boston, Engineering Everywhere uses fun, hands-on activities to solve real-world engineering challenges.
The NYCDDC team chose the units "Don't Runoff: Engineering an Urban Landscape" and "Here Comes the Sun: Engineering Insulated Homes" because they engage students in design challenges similar to the ones DDC engineers and architects encounter on a daily basis.
Afterschool Engineering Supports In-School Learning
To date, the Young Engineers program has reached 150 students in afterschool programs at six Title I middle schools (schools where more than 85% of students qualify for free or reduced lunch, and where a high percentage of students are English Language Learners). "These are children from low-income communities who might not have access to high-quality engineering enrichment programs," Llambelis says.
An analysis of data from pilot tests in the spring of 2015 comparing DDC Young Engineers students to students at the same school who were not enrolled in the afterschool activities shows that the program is highly effective. According to teachers and administrators at the schools, the young engineers are performing better in STEAM subjects than their peers.
Realistic, Real-World Challenges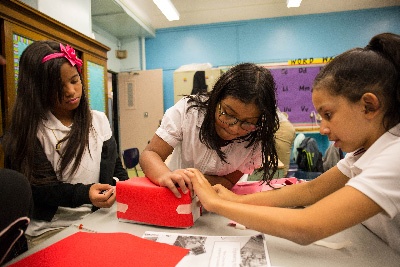 Insulating a model home is one activity in the EE unit Here Comes the Sun.
Llambelis says it was easy to see how realistic engineering challenges like designing a green roof, a bioswale to control runoff, or insulation for a model home were both fun and educational. "For each design challenge, we set up a 'DDC store' where students buy supplies with 'DDC money,'" she says. "At first many students didn't want to spend their money, and as a result some of their structures collapsed. The next time the young engineers went to the store, they were willing to spend a bit more to purchase stronger, more resilient materials; they understand that their choice of materials had a direct impact on the integrity of the structure they were building."
Students who took part in the Young Engineers program also got to visit actual DDC construction sites. "For example, we took our young scholars to see modular homes that were constructed after Hurricane Sandy," Llambelis notes. "They could see just how similar those structures were to the structures they were creating in the classroom, and how they could take what they learn to improve their homes and communities. I have no doubt it has been a transformative experience for our students. They have begun to see themselves as problem solvers, which is what engineers really are."
Providing Mentors for Students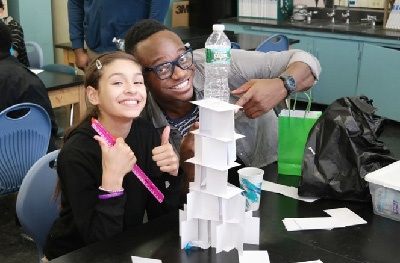 Positive experiences with engineering help students self-identify as future engineers.
DDC provided professional development for the afterschool educators, and DDC engineers and architects also traveled to the schools to support teachers, help with projects, and serve as role models for students who might not otherwise have an opportunity to meet an engineer or built environment professional.
"Before launching this project," Llambelis says, "I walked around our offices and asked DDC employees, 'How did you get into your career? What made you want to become an architect or engineer? Virtually everyone said they'd been influenced by a parent, relative, or family friend who worked in the built environment or understood the industry. The kids we work with, generally speaking, don't know anyone who is a built environment professional, so we aim to put a face on these professions. Our employees talk to the students about what you do as an engineer or architect, why these are good jobs, and the enrichment opportunities that can help you pursue this path."
Expanding Reach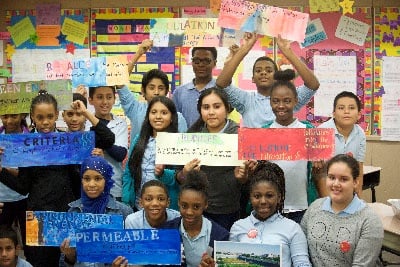 This spring, the Young Engineers program will expand to reach even more students.
This spring the Young Engineers program will expand to three additional schools—one in Chinatown where instruction is in Chinese; one on Staten Island; and one in East Harlem. "We will also host a parent engagement night to make parents aware of free STEAM summer camp opportunities and other programs," Llambelis says. "Often, parents are concerned about their children leaving the neighborhood; we want to showcase the benefits of enrichment programs and why children should attend."
The Young Engineers program is funded by the Mayor and the City Council. "It definitely helped that Engineering Everywhere was free and in the public domain," Llambelis says. "The curriculum maps clearly to what we do at DDC. We're seeing students learn what engineering is and what engineers do; learn to use the Engineering Design Process to help solve problems; come to understand that they have the talent and potential for designing and improving technologies; and see that they too, can be engineers, architects, or other built environment professionals. At the end of the day, that's great for our kids, and it's great for our city."
Browse MORE VIDEOS about NYC DDC STEAM programs
Is your program innovating with Engineering Everywhere? Share your story!
Engineering is Elementary is a project of the National Center for Technological Literacy® at the Museum of Science, Boston.