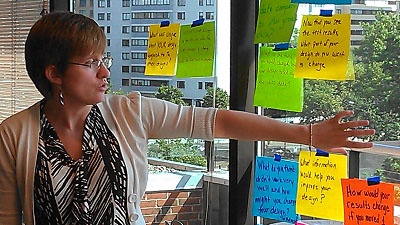 TEI participants share ideas and strategies for effective EiE PD.
Earlier this month we announced a landmark: more than 10 million children have engaged in hands-on classroom engineering with EiE! We're equally excited to mention another landmark: Since 2003, more than 100,000 teachers have taught EiE lessons to their students. To meet the growing demand for EiE professional development (PD), we're growing a cadre of highly qualified PD providers. These educators learn to facilitate EiE workshops at a special three-day program called the Teacher Educator Institute (TEI).
What Happens AFTER the Workshop?
We launched the TEI in 2010 and since 2013, we've surveyed participants at the close of each program, asking, "How well did we prepare you to facilitate EiE workshops?" The responses have been informative, but we also wanted to know what happens AFTER participants head home and apply what they've learned. So we created a "post-implementation survey," sent six months after the session.
Our 2014 surveys got a 27% response rate from the 331 educators who attended the 15 TEI programs offered that year—5 at our Boston headquarters, 10 in locations around the country. Here's what we learned.
Who Attends a TEI?
Some participants are classroom teachers or STEM or science specialists who will be leading workshops for their own schools or districts. Some are college faculty and staff who work with preservice teachers or with elementary teachers at local schools. And
some are full-time teacher educators working for organizations and agencies that offer teacher PD.
The "Multiplier Effect" in EiE PD
Six months after attending, many participants had already facilitated an EiE workshop. Collectively, survey respondents had taught 158 workshops, reaching a total of 2,083 in-service teachers. This is a great demonstration of the "multiplier effect" of the TEI: assuming most teachers implemented EiE that same year with a class of 25 students, more than 50,000 students were doing hands-on engineering with a teacher who feels confident and well prepared with regard to subject matter and teaching strategies.
Though these calculations assume each educator facilitates one EiE workshop within six months, some may do many more. One of our most recent respondents, Maria Lewis, a coordinator with the Charlottesville City Schools in Charlottesville, VA, told us about offering training at all seven of the district's elementary schools. "We already performed one-on-one training with pre-service teachers (individuals that the division hired this 2015–2016 school year)," she wrote. "Our plan is to provide an inservice to all second- and third-grade teachers."
Making a Difference for Teachers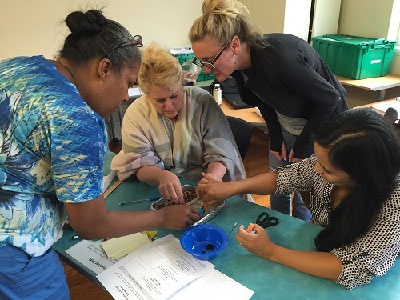 At a TEI, educators experience EiE lessons (like "Cleaning an Oil Spill," shown here) as teachers and as learners.
Here are some more examples of the feedback we're getting from TEI participants: "I had heard about EiE, but it was not until I attended the actual EiE training that I fully understood the powerful parts of the curriculum," Sarah Adumat, a K–8 STEM coach with Wisconsin's Oshkosh Area School District, told us recently. "Now that I understand the Next Generation Science Standards better, I realize how much EiE can assist teachers in their thinking and, ultimately, in how they interact with students in the classroom."
Michael Elder, the director of innovation and gifted services for Onslow County Schools in Jacksonville said, "For me, the greatest impact (of attending a TEI) is being able to clearly and concisely define engineering for elementary teachers and (school) leadership. The ability to say not only that teaching engineering is important, but 'this is how you can accomplish engineering in an elementary school,' has made me a much better advocate for . . . STEM in general."
It's inspiring to think that scenes like these are happening across the country. Thanks to everyone who has shared their stories . . . and keep on engineering!
Learn more about the EiE Teacher Educator Institute.
Engineering is Elementary is a project of the National Center for Technological Literacy® at the Museum of Science, Boston.