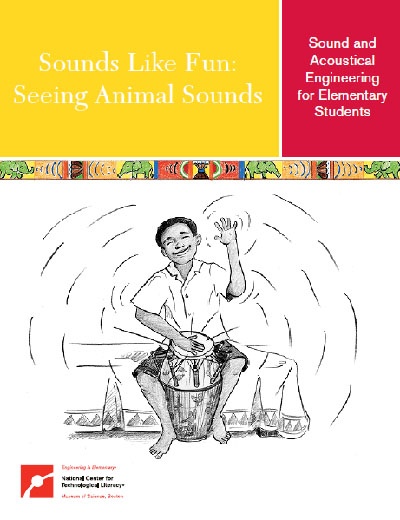 Sounds Like Fun engages kids in designing their own system of sound notation.
You know how inspiring it is to watch an exemplary teacher engage every student in the classroom. EiE Classroom Videos give you that experience. These concise productions show you a condensed version of each EiE lesson in about 10 minutes. Watch a skilled teacher make connections between science and engineering, deal with challenges on the fly, and deploy effective teaching strategies.
Today we're thrilled to announce the release of four Classroom Videos for the unit Sounds Like Fun: Seeing Animal Sounds. If you're teaching this unit, you'll definitely want to take a peek at these videos.
LESSON 1: Setting the Scene with a Story
Sounds Like Fun videos take you into the classroom of Susan DeAngelis—a third-grade teacher at the Village School in Naples, FL—for lessons that focus on the field of acoustical engineering.
Students learn about the African nation of Ghana by reading the storybook Kwame's Sound, about a young drummer who develops a system of notation for some drum music he shares with his cousin. The storybook is fictional . . . but it does feature some real-world scientists and acoustical engineers who are working in Ghana, studying how elephants communicate with each other.
LESSON 2: What Do Acoustical Engineers Do?
In the Classroom Video for Lesson 2, you see Susan skillfully connect the events in the storybook, which happen half a world away, to her students' own experiences. She talks about the sounds Kwame hears in the jungle, then asks students to list the sounds THEY hear each day.
Susan also helps her students identify vibration as the source of sound, using a fun tip from the Teacher Guide. Her students tap a tuning fork, then lower it into a glass of water until the tip contacts the water surface. What happens next is dramatic—you'll have to watch the video to find out!
Here's another useful tip from this video: Susan minimizes waste in her classroom by
having students do much of their planning work on dry-erase boards rather than on
paper worksheets.
LESSON 3: What Does a Sound Look Like?
"Imagine you're deep in the rainforest," Susan says, and her students close their eyes to listen to the calls of the fictional speckled bubble bird. They go on to design their own spectrograms of bird calls, coming up with innovative representations including large and small dots, line graphs, dashes, and numbers that indicate pitch (high to low) and volume (loud to soft). "There's no wrong or right way to do it," Susan emphasizes.
LESSON 4: Seeing Bird Sounds
"Who's up for a challenge?!" Susan says to her students in Lesson 4. They enthusiastically apply the EiE Engineering Design Process and their new systems of bird call notation to show the distinctive sounds of the common loon, Eastern wood peewee, Northern cardinal, blue jay, and mourning dove, using materials like string and dry pasta taped to construction paper.
"I think in the future, when these students hear bird sounds, they'll tune into them in a new way," Susan says when the lesson is complete.
More Videos on the Way
With the addition of these videos to our collection, we now offer at least one set of Classroom Videos for each of the 20 EiE units. But we're not stopping there! Teachers and students are diverse, and we want to represent that diversity. When the collection is complete, you'll be able to choose from two sets of videos for each unit.
Engineering is Elementary is a project of the National Center for Technological Literacy® at the Museum of Science, Boston.