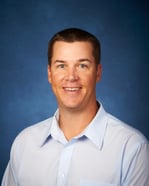 Penn State's Matt Johnson
Matt Johnson likes sports. He used to play baseball, basketball, and football; after college, he took up golf; and today, having just completed a Ph.D. in education at The Pennsylvania State University, he says that sports experience has shaped both his personal philosophy and his dissertation research. "As a serious competitor, failure doesn't discourage me, it makes me want to improve," he says. "So why do schools place such a stigma on failure?"
Matt's research; which he presented yesterday in a special seminar at the Museum of Science, Boston; explores failure in elementary engineering classrooms. His data source is candid classroom videos collected by Engineering is Elementary researchers for our National Science Foundation-funded research project, E4 ("Evaluating the Efficacy of Elementary Engineering.")
The E4 study followed thousands of students in 250 classrooms in four states. Matt's more focused study looked at eight elementary classes—four where students used the EiE curriculum unit To Get to the Other Side: Designing Bridges, and four where students learned with the E4 "comparison" curriculum, which is similar to the EiE Bridges unit but lacks some of the critical design elements that, our research finds, make EiE so effective.
Fail Early, Fail Often
One key takeaway from Matt's observations of how teachers and students react to engineering "fails" is the importance of letting students work through the "Improve" step specified in the EiE Engineering Design Process. "I watched one group of students build a structure with playing cards, where the goal was for the structure to hold as much weight as possible," he says. "One student—clearly a mischief maker—told the teacher, 'We've been trying to make our structure collapse!' The teacher told him firmly to wait—to hold off on testing the strength of the structure till each team could do it publicly, in front of the class."
The teacher's goal was likely an orderly classroom. But by outlawing low-stakes testing—where students testing and revising within the group before going in front of the class—she inadvertently prevented an important opportunity to learn from failure, Johnson says.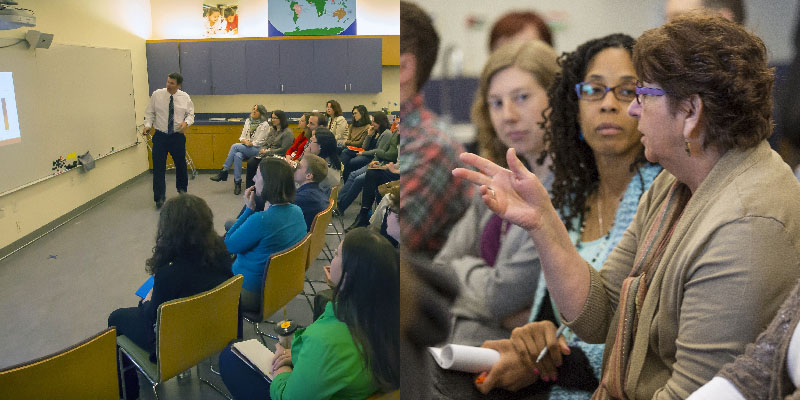 Matt Johnson presents his work to the EiE team on May 2, 2016.
Ask Not, "Did It Fail?" But "WHY Did It Fail?"
Another key finding was how valuable it is for teachers to be able to diagnose the cause of engineering failures. The most effective teachers ask questions that help students understand the cause of failure. "Maybe the bridge failed because the students didn't understand the science behind the challenge—that the bridge deck needs a pier or arch to balance the force of the load," Matt says. As a teacher, that's a different conversation from the one you have with students if the bridge failed because they didn't measure correctly."
EiE director Christine Cunningham says Matt's research is an important contribution to a larger conversation about K-12 STEM education. "Engineering has only recently become part of influential reform documents such as the Next Generation Science Standards," she notes, "and NGSS focuses on the ways that science and engineering practices are similar. Certainly scientific researchers can experience failure. But it's our contention that scientists and engineers think about failure in fundamentally different ways. If we're going to create effective K-12 engineering curricula, it's important to understand these differences, and work like Matt's helps us get there."
Engineering is Elementary is a project of the National Center for Technological Literacy® at the Museum of Science, Boston.