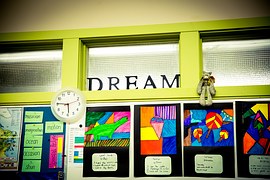 Maybe you've had this frustrating experience: You've identified a curriculum that you're excited about. You feel confident it will help your school meet STEM education goals AND it will be engaging for kids. But budgets are tight and there's no funding to make it happen. This is not the end of the story! Consider applying for a grant.
There IS Money for STEM Education
A variety of funders support STEM education initiatives. Many national corporations recognize the value of a diverse workforce and fund K-12 STEM programs with an eye to putting more women and minorities on the path to STEM careers—and that includes many EiE sponsors.
You may also find that STEM-related businesses in your town are eager to support local schools. Don't overlook national foundations, community foundations, funding from your state department of education, federal grants, and even crowd-sourcing sites like DonorsChoose.
Through ESSA, the federal government recognizes the need for STEM education through a number of different funding opportunities: Title I-A, Title II-A, Title IV-A and Title IV-B. For FY 18, did you know that Title IV got a huge funding boost—from $400 million in 2017-2018 to $1.1 billion? This is a tremendous step forward for elementary STEM education. Now you have even more funds and flexibility to implement STEM programs in your school or district.
Never written a grant before? You don't have to be an expert to score a grant; the most important thing to do is to follow the instructions provided by the funder—to the letter.
Use These 7 Tips to Get Started
Here are some tips to get you on your way to a fully funded STEM curriculum implementation. Remember to check the EiE Outreach Toolkit for more tips on identifying (and writing) grants.
Identify the need. Be ready to explain exactly why you need support. Perhaps your state has adopted the Next Generation Science Standards and you need to adjust your curriculum to meet the standards. Maybe a high number of students aren't meeting performance expectations in science and math. Or perhaps your district is committed to closing the "opportunity gap" for low-income and minority students
Get clear on your goals. What will you do with the grant? Lay out realistic goals and aim for measurable results—for example, "We plan to launch a pilot program to integrate engineering and science education for third-grade students in two schools, reaching 400 students over two years."
Determine how you'll measure success: How will you know that adopting a new curriculum made a difference . . . higher student test scores? An improvement in post-implementation vs. pre-implementation assessments? Be prepared to describe the assessment tools you will use.
Get permission: This is an easy step to overlook, but don't skip it! For most grants, you'll be asked to show that you have the support of school administrators.
Make a budget. Your budget must clearly show the connection between what you propose to do and the money it will take to make it happen. Do you need a few hundred dollars? A few thousand? Hundreds of thousands? Remember to include costs for staff time along with materials and supplies.
Identify possible funders. Consider your goals and budget and look for a variety of funders that match your needs. . . then pick the best match. Websites like STEMfinity and Edutopia aggregate information about available grants, and S&S Worldwide has a handy online grant finder that lets you search for opportunities in your state. Look for funders who aim to support projects like yours rather than trying to force your project to meet the requirements of an attractive grant opportunity.
Follow directions. Every funder will provide precise instructions on what they expect to receive from you. Follow directions carefully and double check your work.
Learn more about a great federal STEM funding opportunity through Title IV-A.