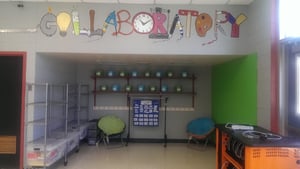 This year, the students at Tabernacle Elementary School in Tabernacle, New Jersey are experiencing something brand new—they're solving problems and exploring new challenges in a hands-on, collaborative STEAM environment called the Collaboratory. Since the Collaboratory has opened, students have thrived with project-based learning and the Tabernacle community has come together to support the common goal of helping kids develop 21st century skills. Collaboratory teacher Brittany Murro says, "When we started this, we thought, it's the first year, we'll just take things a day at a time and see where they go. But it has gone above and beyond what I think any of us expected for the first year of a new program like this."
Creating the Space
The idea for the Collaboratory hatched when Glenn Robbins, the superintendent of Tabernacle School District, wanted to bring the ideas and philosophies of their middle school STEAM program to the elementary level. Brittany took on the role of Collaboratory teacher, and over the summer, she and her coworkers collected materials "from Legos to Snap Circuit kits to magnets—anything we could get our hands on!" and created a cool, "elementary-friendly industrial" classroom environment. Tabernacle exemplifies the "it takes a village" approach—the principal, Dr. Gerald Paterson, was on hand to build the Lego wall! Most importantly, she and curriculum director Barry Saide sought out curriculum that would act as a "stepping stone" to middle school STEAM. Local schools pointed them to Engineering is Elementary, and it has been a great fit at the Collaboratory. "The units that we started with have been a huge hit here," Brittany says. "The kids are really running with them. They're going home and talking to their families about them, and they're connecting what they're doing in other classrooms—in reading and in math. It's really taking cross-curricular learning to a whole other level."
Community Support Makes It Happen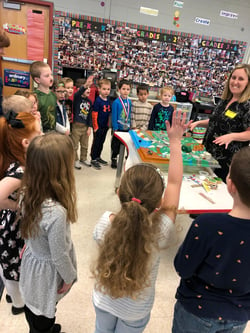 As Brittany developed a new curriculum for the Collaboratory, she decided to experiment with a new method of parent-teacher communication. When the Tabernacle community wants to know about their kids' daily STEAM explorations, they can get real-time updates from social media channels and Brittany's Collaboratory blog. "The good, the bad, the ugly—it's showcased!" jokes Brittany. She adds, "Since September, we've had a lot more people jumping online to check things out. It's great because it lets them say to their kids, 'Ooh, I saw this picture of you. Tell me more about it!' It sparks a lot of dinnertime conversation."
The dinnertime conversation and community engagement have had a wonderful side effect: parents are excited to get involved by donating money, materials, and their time to the Collaboratory. Brittany has pulled in STEM-professional parents as "guest speakers" to talk about everything from mechanical engineering to oil spills. Recently, a first-grade parent with a background in conservation and wildlife biology brought in an enviroscape (pictured above) to let kids dive deeper into the conservation themes in the storybook Saving Salila's Turtle. "That brings it to life for these kids," Brittany says. "They think, 'Oh, what we're doing is actually connected to these big, real-world problems.' I think it starts to spark a lot of interest in engineering and problem solving that maybe wasn't there before."
Getting Creative with STEAM
Brittany's students get tons of opportunities to apply their knowledge of the engineering design process to unique, seasonal challenges. In October, the Collaboratory was full of haunted house marble mazes and pumpkin-picking technologies, and in December, students worked on designing Grinch sleds and improving Polar Express train tracks. "Every now and then, we stop and diverge from the usual path," says Brittany. For instance, a recent snow delay prompted a timely design challenge: "Create something that could help people travel in the snow." Students took the prompt and ran with it, designing everything from heated, snow-melting boots to snow vacuums! "They use what they learned from [Engineering is Elementary] units to come up with the coolest ideas . . . We tell them all the time—'One day, you could be on Shark Tank!'" says Brittany.
Looking Forward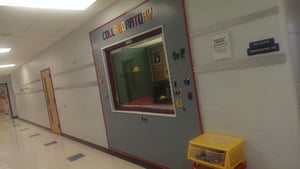 Brittany says that before Superintendent Glenn Robbins arrived, "We really needed a refresh as a district . . . Being a small district, you don't want to fall behind or be set in your ways too much. That doesn't allow for growth or changes in education to take place." But in the year since the Collaboratory began, they've become a model of modern STEAM education. Tabernacle is hosting "a revolving door" of school administrators who want to replicate the school's success—they even had a visitor from Australia come to check out the space!
Brittany loves the way the Collaboratory has brought "global connectedness" to her small town, but she's especially excited that the school district was able to convince the Tabernacle community of the value of STEAM education. "[Parents and teachers] are already seeing the change in their kids: how they tackle different tasks and how they work as a group, even at home," she says. "So the proof is in the pudding!"
All photos courtesy of Brittany Murro.
Hands-on engineering design challenges for elementary students empower young children to see themselves as problem solvers. Find out how you can create a generation of problem solvers.