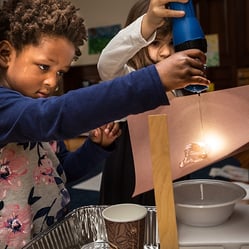 The National Association for the Education of Young Children (NAEYC) is holding its annual conference in Washington, DC from November 14-17, 2018. The EiE team will be out in full force to launch our newest early childhood curricula Wee Engineer and EiE for Kindergarten! We're excited to share what we've learned about early childhood engineering. We love meeting educators, answering burning questions,and discovering the amazing things happening in classrooms or districts across the country. If you're attending #naeycAC, check out below what we have in store!
Stop By Our Booth #432!
When you visit us at a conference, you're guaranteed to learn something new. We have a ton of fun planned. Stop by our booth to get free goodies, take fun photos with our funny engineering props, meet members of the EiE team, and learn about our newest offerings Wee Engineer and EiE for Kindergarten.
Attend Our Panel Session
Designing an engineering curriculum for young children
Thursday, November 15, 2018
10:00 - 11:30 AM
Washington Convention Center, Room 209C
Presenters: Marisa Garcia and Marlene Guay
How can you capitalize upon children's proclivities to build things and explore how they work to develop children's ideas about engineering? In this session, we examine what age-appropriate engineering looks like for very young children. Participants will engage in activities to construct an understanding of what "technology" and "engineering" are. Then we will watch short video clips of preschool and kindergarten children engaged in engineering activities and identify general principles important for engineering with early learners. Participants will come away with an appreciation of how engineering can foster children's creative thinking and persistence and an engineering activity to try with young learners.
Meet EiE Founding Director
Book Signing with Dr. Christine Cunningham
Thursday, November 15, 2018

12:00 pm - 1:00 PM
Booth #432
Looking to learn more about how and why to introduce engineering to young learners? EiE Founding Director Dr. Christine Cunningham, will be signing copies of her recently published book, Engineering in Elementary STEM Education: Curriculum Design, Instruction, Learning, and Assessment. Starting at 12 PM in our booth, we'll be giving away 50 free copies of Engineering in Elementary STEM Education on a first-come, first-served basis.
We look forward to seeing you there!
Not attending NAEYC? You don't have to miss out on all the fun. Take this fun quiz and get a free poster!