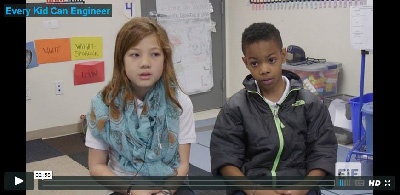 The EiE video takes you inside a D.C. classroom where every kid is an engineer!
The National Science Foundation (NSF)'s second annual "STEM for ALL Video Showcase" opens today, and you're invited. This event is like the Sundance Film Festival for STEM education research: it includes more than 150 NSF-supported projects, all sharing short videos that showcase their work in STEM education. A production by Engineering is Elementary's talented videography team is one of the entries . . . and there's a "people's choice" award. So please visit, view, and vote!
You don't have to dress up or fly anywhere for this film festival; it's an online showcase. And Robert Redford likely won't attend, but there WILL be plenty of important visitors. NSF launched the showcase as a way to build connections in the national community of STEM education researchers, and to raise awareness among policymakers and the general public of the work the foundation does to support educational research on "what works" in K-12 STEM education.
We Ask for Your Vote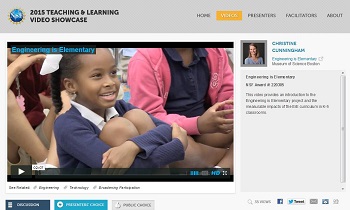 Watch the award-winning EiE video from 2015.
The showcase runs from May 17th through the 23rd. Not only can you watch the amazing stem videos (from the comfort of your couch), you can interact with the presenters by sharing comments or asking questions. And of course, you can vote for your faves.
At last year's showcase, the video submitted by the EiE team was recognized with a Public Choice award. (Check it out!) We hope you'll help us earn this honor a second year in a row. You can vote on the NSF Video Showcase website by clicking "Public Choice" underneath the video. This will give you the option of voting by sharing through Facebook, Twitter, or by submitting an email ballot.
STEM for ALL
The theme of the 2016 video showcase is "STEM for All," putting the focus on projects that broaden participation in and access to STEM education. The 2016 EiE video takes you inside a classroom at Maury Elementary School in Washington, D.C. to meet a crew of engaging student engineers and their energetic teacher, Vanessa Ford. You'll definitely want to meet Charley, the student who surprises her classmates with her engineering genius.
See you at the showcase!
Engineering is Elementary is a project of the National Center for Technological Literacy® at the Museum of Science, Boston.