We hit a landmark recently—more than 10 million students have been reached by the Engineering is Elementary curriculum. Not all of that learning happened during the school year! Increasingly, we're hearing about districts adopting EiE as a summer school curriculum. One of these districts is Colorado Springs District 11. Here's their story.
A Raytheon Scholarship to Jumpstart STEM Learning
You might expect that a district choosing to use EiE in summer school already has a long history with the curriculum. That's not the case with Colorado Springs District 11, which first implemented EiE this spring, after being awarded a Raytheon–EiE District Scholarship in fall 2015.
The Raytheon award provided curriculum materials and professional development for 20 teachers and brought the district's K-12 science facilitator, Linda Sanders, to a Teacher Educator Institute in Boston, preparing her to provide EiE PD for additional teachers in the district.
Raytheon–EiE scholarships aim to jumpstart STEM learning at schools that serve student populations underrepresented in STEM careers. As the biggest district in the city of Colorado Springs, with 33 elementary schools, District 11 definitely qualifies. "Our schools are very diverse," says Sanders, "including International Baccalaureate schools, schools with multilingual programs, Title I schools, and schools pursuing a STEM/STEAM focus."
Meeting Science Standards
The timing of the scholarship was fortuitous. Colorado adopted new state science standards in 2010. "But meanwhile, under No Child Left Behind, we'd been forced to give science less and less time," Sanders says. The district was looking for ways to re-engage students and teachers in inquiry-based learning. "We want to be sure all our students get the chance to try things like problem solving, group work, and other 21st century learning experiences," Sanders says. "EiE does all that."
Building a Team of Teacher Leaders
Sanders selected teachers from 12 elementary schools to attend the Raytheon-supported workshop.
"I identified teacher leaders, and chose schools that had a STEM or STEAM focus," she says. "Now I have 20 teacher leaders who can help me share that love of inquiry-based learning with other teachers. And our Raytheon grant was generous enough to provide us not just with Teacher Guides and materials kits, but also a refill kit for each materials kit."
Summer Enrichment with EiE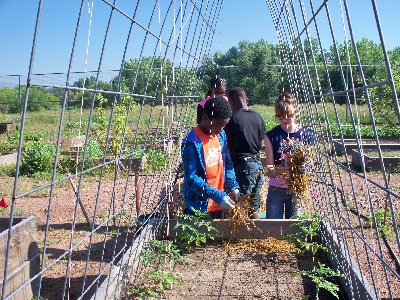 Learning about plants—and bugs—in summer school.
Just one year ago, District 11 launched its first-ever STEM/STEAM-focused Summer Enrichment Series (SES)—a wide selection of week-long classes. There are no formal assessments; instead, at the end of each week, parents are invited in and students share their learning. They may show off innovative engineering products, explain their STEM investigations, produce and act in plays, or create videos complete with musical scores.
"SES received such a positive response that our Board of Education reapproved the money for summer school this year," Sanders says. "And this summer we'll make EiE a part of it, as part of our work to integrate and expand the use of the curriculum."
Some of the teacher leaders who attended the Raytheon workshop last fall and taught with EiE this spring will be summer school instructors. Students can look forward to designing a technology that transfers pollen from flower to flower with The Best of Bugs: Designing Hand Pollinators and figuring out the best way to make their own modeling clay with A Work in Process: Improving a Play Dough Process.
Gauging Success
How will Sanders measure the success of the program? "The first measures are soft data," she says, "like teachers' perceptions of how engaged the kids are, and perceptions of kids' understanding." Parents are also asked to fill out a survey, with questions like "Do you think your child's knowledge was increased by attending summer enrichment?" and "Did summer session change your child's attitude about attending school?"
District 11's Educational Support Services Department (EDSS) has already analyzed the first year of SES data, comparing SES students' fall MAP math and reading scores to MAP scores of students who did not participate. Early indications are that the program reduced summer slide for participating students. Sanders believes that with EiE experiences incorporated into SES, the district will see students benefit even more.
"We want to create excitement for going back to school!" Sanders says, adding that she already feels a positive impact herself. "Working with EiE is rejuvenating me as a facilitator because I see it bringing additional learning opportunities to kids."
Engineering is Elementary is a project of the
National Center for Technological Literacy®
at the
Museum of Science, Boston.