The National Science Foundation (NSF)'s third annual "STEM for ALL Video Showcase" opens today, and you're invited. This event is like the Sundance Film Festival for STEM education research: it includes more than 170 NSF-supported projects, all sharing short videos that showcase their work in STEM education. We submitted a production by our talented videography team. There's a "people's choice" award. So please visit, view, and vote!
NSF launched this showcase as a way to build connections in the national community of STEM education researchers, and to raise awareness among policymakers and the general public of the work the foundation does to support educational research on "what works" in K-12 STEM education.
Vote for EiE!
The showcase runs from May 15th through the 22nd. Not only can you watch the amazing STEM videos (from the comfort of your couch), you can interact with the presenters by sharing comments or asking questions. And of course, you can vote for your faves.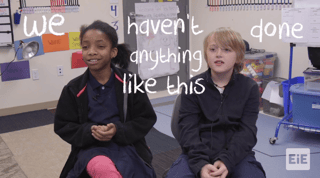 At last year's showcase, the video submitted by the EiE team was recognized with a Public Choice award. (Check it out!) We hope you'll help us earn this honor a second year in a row. You can vote on the NSF Video Showcase website by clicking "Public Choice" underneath the video. This will give you the option of voting by sharing through Facebook or Twitter, or by submitting an email ballot.
STEM for ALL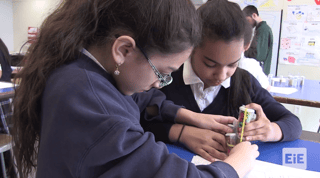 The theme of the 2017 video showcase is "Research and Design for Impact," putting the focus on the thinking behind projects that broaden participation in and access to STEM education. As you may already know, the EiE team is committed to designing engineering curriculum that engages ALL students. EiE's 2017 video, "Engineering Through Inclusive Design," takes you inside George Masterson's Lawrence, Massachusetts classroom as students engage in the unit Taking the Plunge: Designing Submersibles. One of EiE's inclusive design principles is to feature diverse protagonists in our context-setting storybooks, and we've seen how it can motivate students of all backgrounds. Watch how our Despina Makes a Splash storybook connected with students like Gabriella, who credits Despina with helping her be "more ferocious and confident" in her engineering exploration!
See you at the showcase!