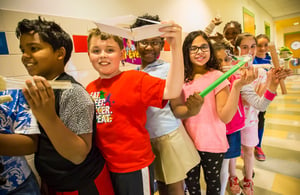 Real-world connections are a fantastic way to get kids excited about engineering. The Winter Olympics begin on February 9th, so it's the perfect time to harness kids' excitement and show them how engineering shapes everything from an athlete's safety gear to the design of a bobsled course. Below, check out a few Olympic modifications to our in-school and out-of-school-time units that are sure to be a hit in your classroom or afterschool program.
Do you think you could identify common misconceptions about engineering?
Race to the Finish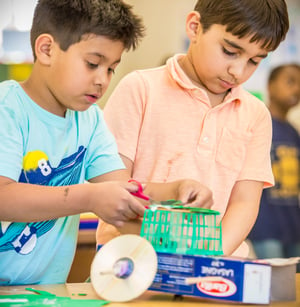 Our Engineering Adventures unit Go Green: Engineering Recycled Racers challenges youth to engineer race cars from recycled materials. They test their designs on a treacherous track and compete in a recycled racer derby. For an easy Olympic twist, ask them to build a new vehicle: bobsleds! They'll have to grapple with new criteria and constraints, like minimizing friction, staying within weight restrictions, and ensuring that the bobsled doesn't slide off of the track. Show them this NSF video about bobsled engineering, or get them psyched with everyone's favorite bobsled movie—Cool Runnings!
Stay Gold
In our in-school unit A Work in Process: Improving a Play Dough Process, students learn about chemical and process engineering as they work to design the best process for making high-quality play dough. In the context-setting storybook, Michelle's MVP Award, they meet a hockey player named Michelle who designs play dough MVP awards to hand out after each game. In the design challenge, ask your students to make their play dough into the ultimate MVP award—an Olympic medal! You can add criteria such as color (gold, silver, and bronze), the ability to be worn around the neck on a ribbon or string, and design­—can they figure out a way to represent numbers, pictures, or words on their play dough medals?
Safety First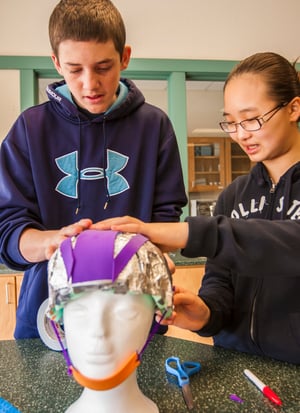 Our Engineering Everywhere unit Put a Lid on It: Engineering Safety Helmets challenges youth to create a helmet that protects an athlete in a high-contact sport from concussions and brain damage. Helmets presents many opportunities for Olympic connections—you can show youth impressive helmets from Olympics past to inspire artistic designs, or assign them different sports to change their criteria and constraints. Alpine skiing helmets need to be low profile, for instance, while luge helmets must provide extra neck support (this New York Times article breaks down many different kinds of Olympic gear). If students are viewing the Olympics at home, challenge them to take note of the types of safety gear they see athletes wearing, and ask them what kind of improvements they can imagine.
Always on Time
In our Engineering Everywhere unit It's About Time: Engineering Timers, youth learn mechanical engineering skills as they work to design an accurate timer. Accurate timers are a huge component of the Olympics—show youth this interview with the games' Chief Timer, who never stops improving his technologies. If they're inspired to get up and move, challenge them to test their timers by competing in mini Olympic trials and measuring their personal best times.
The Olympics present tons of opportunities for STEM connections—everything from cutting-edge uniforms to automated robot helpers were designed especially for the upcoming games. Be sure to share these exciting technologies with your students. It's a great way to remind them that engineering really is everywhere!
Test your knowledge of engineering misconceptions!