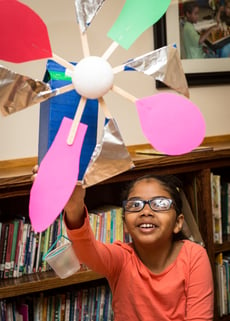 Recently, EiE team members attended our very own Museum of Science's Dream Big Educators' Night. Alongside 200 educators, we watched the Museum's new IMAX film Dream Big: Engineering Our World, an amazing testament to the ingenuity and resourcefulness of engineers. Dream Big is a great example of how engineering stories that situate STEM learning in a real-world context help students understand the significance of the STEM concepts that they learn in the classroom. We were so inspired by Dream Big that we compiled a list of video resources that feature engineers who are working to achieve the incredible. Visit the Museum to watch Dream Big in person and/or show your students these clips to spark their imagination and get them excited about engineering a bigger and better future!
Designing a Prosthetic for Derby the Dog
To engage ALL learners, it's important for educators to show youth how engineers help people, animals and the environment. The story of Derby the Dog demonstrates exactly that. Derby was born with a disability that made it difficult for him to walk and run. Engineers at 3D Systems used a 3D Printer to engineer custom prosthetics that would enable this energetic pup to run free! After watching this video, youth can also even try engineering their own prosthetic devices.
15-Year Old Engineers His Own Radio Station Using Spare Parts!
It's important to show students examples of young engineers. The story of fifteen-year old Kelvin Doe is a real-world EiE story! Completely self-taught, Kelvin built his own radio station using spare parts he found in the trash bins scattered around his native country, Sierra Leone. Kelvin became the youngest person in history to be invited to MIT's "Visiting Practitioner's Program." Stories like Kelvin's inspire us every day—they remind us that with a little creativity and resourcefulness, anyone can be an engineer!
What Kind of Ice Cream Would You Engineer?
For all of our Engineering Everywhere units, we created context-setting "Special Reports" for educators to share with their youth. For our "tastiest" unit, Food For Thought: Engineering Ice Cream, a very lucky EiE staffer got to visit two different ice cream parlors in Boston. In the video, youth learn how liquid nitrogen can be used to freeze ice cream instantaneously and how difficult it can be to develop a unique ice cream flavor (like coffee-and-doughnut ice cream!). Most importantly, youth are able to learn about a different type of engineering and how much thought and creativity it requires! You can check out the other context-setting videos in our Video Collection . . . after you get yourself a sweet treat, of course.
14-Year Old Girl Builds a Car from Scratch!
We always love watching this inspiring story featuring a 14-year old girl who sought to build her own car from scratch. Kathryn proves that engineering isn't only for boys or adults, and that sometimes those crazy "What if/Could I" ideas are well worth exploring. Show your students this inspirational video and ask them what technology they would design if they had no restrictions.
What Does it Take to Plan an Unmanned Space Trip to Jupiter?
Meet Tracy Drain: an incredible engineer who has a very important task. She's a flight systems engineer at NASA's Jet Propulsion Library, and she's working on Juno, the first solar-powered and unmanned space craft to travel to Jupiter. In this clip, Drain talks about systems engineering and the processes and inventions that allow us to gather environmental information about the faraway planets that astronauts hope to visit someday. Last June, three EiE team members were fortunate enough to visit Tracy Drain to discuss remote sensing and to create a video for our upcoming Engineering Everywhere unit Worlds Apart: Engineering Remote Sensing Devices. We can't wait to share it with you!
Who Else Wants to Make the World's Largest Outdoor Shake Table?
The EiE team loves making shake tables and simulating earthquakes almost as much as we enjoy talking about the importance of earthquake engineering. The next time you make a shake table with your students, show them this clip featuring the world's largest outdoor shake table first. In this clip, learners discover the challenges that engineers face as they work to design structures that remain resilient during and after an earthquake. Afterwards, challenge youth to research the unique ways that earthquakes move the ground, then construct different shake tables to model those motions.
EiE believes strongly in the power of stories to spark students' curiosity and imagination. Each of these stories demonstrates how engineers work to better humanity and to create a sustainable future for us all! What's your favorite story engineering story? Share it with us in the comments below!