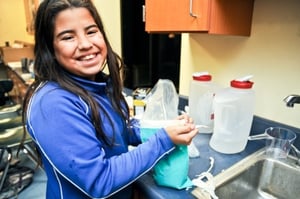 Did you know that February is National Children's Dental Health Month? The dentist's office might not be your students' favorite place, but it is full of engineering marvels! Below, we compiled some STEM-focused dental activities and technologies to share with your students. Whether you invite an expert to your class or challenge your kids to invent the next great toothbrush, putting a STEM twist on this important month is sure to put a smile on your students' faces!
Ask the Expert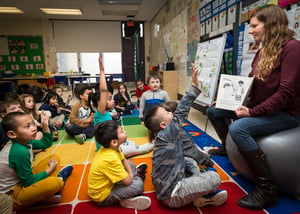 Mary Eileen, an EiE staffer and former classroom educator, often celebrated Children's Dental Health Month by inviting local dentists to her class to help her students "brush up" on their dental hygiene skills. She says that demonstrations like this were wonderful, but they repeated information kids learned in their routine trips to the dentist's office. Instead, she suggests that STEM educators invite local dentists to bring dental tools into the classroom for an exciting, technology-focused presentation. This format offers your students an opportunity to get answers to their pressing questions: What is a filling made out of and how does it work? How do dentists use lasers? Armed with the knowledge of what dental tools are used for and what problems they solve, students might feel a little braver next time they sit in the dentist's chair!
What's New?
Engineers have made some huge advancements in dental technologies in the last few years. For instance, researchers in Taiwan developed a Bluetooth sensor that fits into an artificial tooth and transmits health information based on your mouth movements. You can also share some good news: engineers are developing a pill that changes the bacteria levels in your mouth. This will prevent cavities and, in turn, reduce the amount of time patients spend under the drill. 3D printing is also revolutionizing many aspects of dentistry—soon, 3D printed braces, shade-matched implants, and even dentures will be commercially available.
Imagine the Possibilities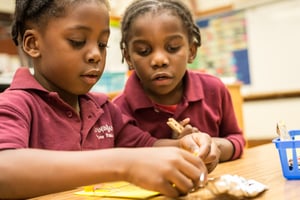 After students learn about new dental technologies, ask them to imagine how they could solve even more dental challenges. Ask questions like:
How would you improve a toothbrush?
How else could dentists use 3D printers to help patients?
How would you improve braces?
Could you engineer something that reminds people to visit the dentist for check-ups? What about something that reminds them to floss?
How would you design a dentist's office of the future? What kinds of technologies would help kids feel more comfortable there?
Invite them to brainstorm solutions and draw up plans, then ask them to share their ideas with the group. One of your students might have a million-dollar idea—an enterprising kindergartner designed a kid-friendly, toothpaste-dispensing toothbrush in 2015!
Visit the American Dental Association website to download posters and resources for Children's Dental Health Month, and to find a dentist near you.