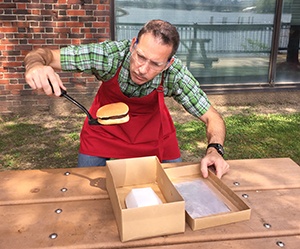 Summer is a great time to take your mind off of work and relax with your friends at a backyard BBQ. But for the EiE team, there's no such thing as a day off from engineering. Whether we're at weddings, graduations, birthday parties, or baby showers, we're constantly imagining ways we can use the Engineering Design Process to improve the festivities. And we don't mean to brag, but we're pretty sure we've perfected the summer cookout. So this summer, give our super practical BBQ technology tips a try. We guarantee that everyone will be talking about your gathering for years to come.
Burn, Baby, Burn
Are you concerned about the environmental impact of your gas or coal grill? Do you have several hours to dedicate to cooking a hamburger patty? Then this hack is for you! The solar ovens from our Now You're Cooking unit are perfect for a BBQ party with guests who prefer salad. In just a few hours, you'll be serving up at least one tasty burger from your tiny foil oven. Your partygoers will be impressed with your DIY acumen, if they haven't already rioted from hunger!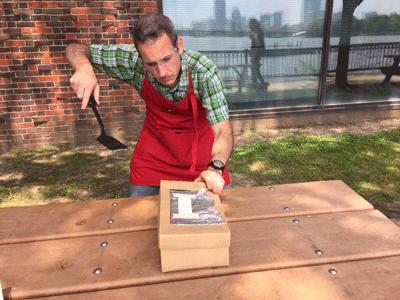 Stop, Thief!
Now that you've spent 3 hours cooking a burger, you definitely don't want someone to steal it. Stop that Hamburglar in his tracks with a quick EiE technology modification: the burger alarm! Rig the circuit from our An Alarming Idea unit to emit a soothing buzzing noise whenever it's plugged into a burger patty. When the alarm goes quiet, you know that it's time to defend your burger from a duplicitous thief!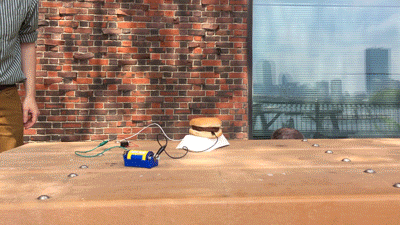 Time for a Shake Up
Are you always getting jostled at BBQ parties? Want to make sure that your burger can withstand the abuse? Repurpose the shake table from our Shake Things Up unit to put that sandwich to the ultimate test! Check out a demonstration below, and learn from Merrick's mistakes: a plain burger is a structurally unstable burger!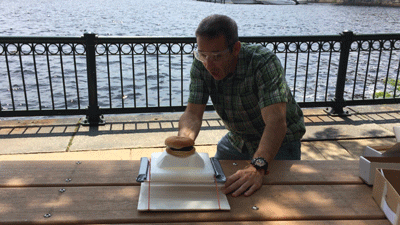 Pass the Punch
Are you sick of standing up and reaching across the table to pass drinks to your lazy friends? There has to be a better way! Well, that's where the track from The Attraction is Obvious: Designing Maglev Systems comes in! Just take your maglev track, fill a paper cup with the beverage of your choice, and gently pass it to your friend, who needs to be sitting exactly 1 foot away from you at the time! They'll be so amazed at their floating beverage, they won't even notice that it spilled in transit!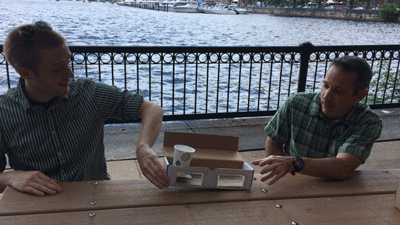 As you may have deduced by now, the EiE staff knows a little bit more about engineering than we do about BBQs. We hope that you have a fun and relaxing summer!