We believe that kids are natural engineers. Keeping them engaged and learning at home and in our communities helps to build on their natural curiosity and see opportunities for learning in their everyday surroundings. As part of our Bringing STEM Home series, we're sharing easy-to-do, free or low cost at-home activities for learners in K-8th grade.This featured engineering activity called Pass the Peppers! gives learners an opportunity to experiment with designing and testing their own small transportation system!
To play Pass the Peppers, you'll need a few things. The point of this activity is to think creatively to solve the problem, so try not to limit yourself to these suggestions:
→ Two chairs, set on a steady surface a few feet apart from each other
→ Your "peppers" should be small, lightweight and not easily broken items (think tennis balls, legos or scrunched up newspaper)
→ Our Pass the Peppers! Activity Book
Skills developed & learning goals:
→ Fine motor skills
→ Creative problem solving
→ Elementary engineering
→ Learning from trial and error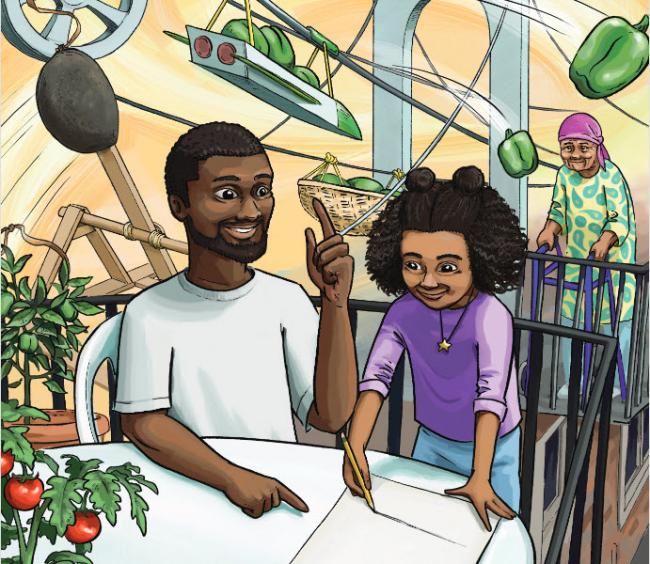 Directions:
Read along with our Pass the Peppers story about Makayla and her dad, Andre, passing ingredients for salsa to Makayla's grandma in the next door apartment. Your learner's job is to come up with a solution for a similar problem!
Design and test your ideas for passing peppers from porch to porch using the chairs as your target platforms. Will you design a pulley system? A zipline? A catapult? How will you get your "peppers" from one chair to the other?
Remember, engineers ask lots of questions and try a lot of things that don't work. Don't get discouraged if your first design doesn't get your peppers where they need to be! Consider trying several different ways to get them across and, for an added challenge, move the chairs farther apart!
Learning questions:
→ What are some ways to get things from one place to another?
→ When you tried, what worked? What needs to change?
→ Are there any other ways that would work?