Ishika Nag, a sophomore at Oviedo High School, in Oviedo, Florida, is becoming the go-to youth engineering organizer in her community. With help from EiE, she just hosted her first STEM camp with elementary and middle school students across Florida, as well as a few out-of-state participants.
"I had always really liked the sciences since I was little," Ishika said as she explained the original inspiration for the STEM camp, hosted during spring break.
Her earliest engineering projects included creating a pair of tissue paper shoes and building a working elevator to pull books to the top of her bunk bed, but she didn't picture herself as an engineer until she joined a science and engineering club, with the Southeastern Consortium for Minorities in Engineering, in the seventh grade that changed everything.
"I absolutely fell in love with engineering and what I could do with just my hands and with my imagination, how I could put that to use and build new things. And I made a lot of friends in that club." Ishika said. She and her team worked on a car powered by a mousetrap that eventually won them a junior national competition! "And I was just so proud of us. So that's the real time when it kind of clicked that I really wanted to do this for a career."
It wasn't long before Ishika decided to get started early on her impressive career goals. About three weeks before the pandemic, the high school student started partnering with the Boys and Girls Club to create a weekly engineering club for younger students to attend.
"I realized that I wanted to help out other kids, too. Maybe some underprivileged kids who didn't really often have the chance to experience the same things I did," Ishika said. "And I was going there every week for around three weeks, and I was having a great time. But then the coronavirus pandemic happened, and I couldn't go there anymore. So I started to wonder how I could adapt this project to something that would be more virtual."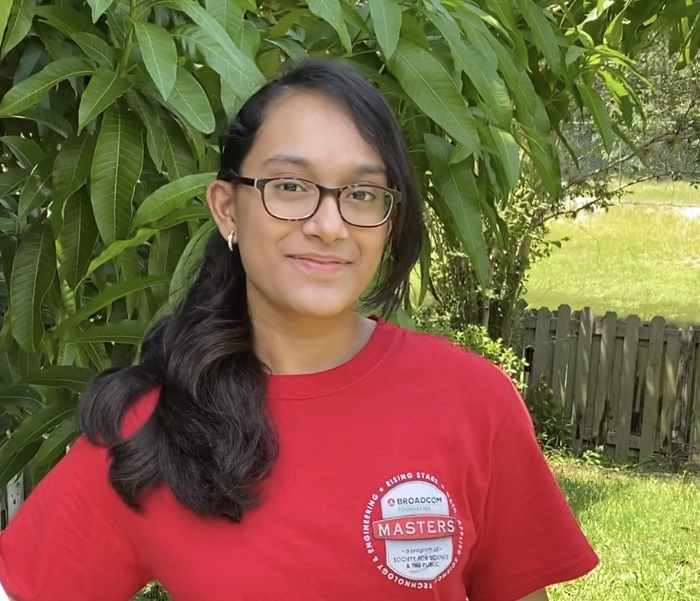 In the meantime, Ishika was selected by the National Academy of Engineers as an EngineerGirl Ambassador — one of 23 in the nation and the only representative from Florida. Like a true ambassador, she used the opportunity to reach out to other kids and spread her passion for STEM through a virtual camp.
During her search for the perfect STEM camp program, Ishika stumbled across EiE and reached out to advocate on behalf of her community to find more resources for her camp. When we heard about her project, we couldn't wait to help and sent her a complete kit and lesson guide to complete the Recycled Racers activity with her group.
The racers were a huge success. Ishika led a group of 20 students over the course of the week through a scavenger hunt for materials, a scrap materials market, a lesson about Newton's Laws of Motion and a competition to build their own balloon-powered racers.
"I did actually hold a poll to see what students liked best. And I think the best part was definitely the building of the cars. They all loved testing out the different combinations and trying it out," Ishika said. "And I think the most challenging part for them was also building the car. But I think that's what made it all the more rewarding."
As she has developed her passion for STEM education, Ishika has taken notice that she is often one of few female leaders in her community and, as part of her partnership with EngineerGirl, is excited to keep inspiring girls in her community, along with anyone who is excited to learn about engineering. Her camp, which she is calling "Gear Up!," will continue into the next year.
"Initially, I was a little unsure about what response I would get from the kids, because, you know, it was my first time doing this and I had never really done something of this scale before," Ishika said. "But everyone, when I asked them if they'd be open to taking this camp again, I got so many yeses and I was so overjoyed by that response. Like, yes, we're definitely doing this again."
To see more from Ishika Nag and other #eieinspired organizer's STEM journeys, check out @EiE_org on Twitter!