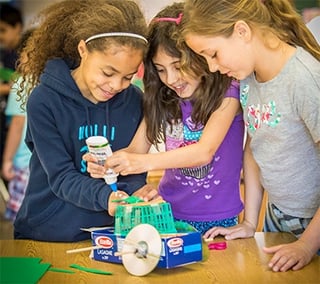 We can't overemphasize the importance of positive role models. They show young engineers that their dreams are achievable. In some instances, an effective role model can spark a young girl's interest in engineering: ASME reports that women only make up 18-20% of the engineering workforce, and posits that "The stereotype that links masculinity to technology is, unfortunately, still prevalent and difficult to overcome." We always hope that our EiE storybook characters serve as role models for kids in all classrooms. They solve real-world problems for themselves, their friends and families, and their communities. This Women's History Month, we want to shine a light on some incredible problem solvers whose tenacity and ingenuity inspire us to create strong role models for your students.
Despina / Sue Austin
In Despina Makes a Splash, the context-setting story for Taking the Plunge: Designing Submersibles, a young girl named Despina is inspired by an ocean engineer to design a technology that retrieves an object from the ocean floor. Despina uses a wheelchair, and she loves the freedom of movement she feels when she swims in the water. We think she would love to meet Sue Austin, an artist who loves the way her wheelchair enables her to move through the world. In her TedxWomen talk (embedded below), Austin explains how the connections she found between SCUBA gear and her wheelchair inspired her to create a hybrid of the two technologies. Her stunning underwater footage is not to be missed! If your class is interested, learn more about how she and her team engineered the "underwater wheelchair" in this BBC article.
Lerato / Naadiya Moosajee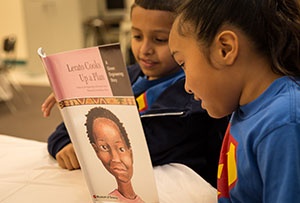 The context-setting story for Now You're Cooking: Designing Solar Ovens is Lerato Cooks Up a Plan. It tells the story of Lerato, a young girl in Botswana who dreams of going to college but knows she must help her large family. Tsoane, a student studying green engineering, gives Lerato a solar oven to eliminate her tiresome firewood-gathering chore. This helps Lerato learn that she is fantastic at improving technologies and that her college dreams are within reach. Tsoane set a positive example and encouraged Lerato to follow in her footsteps—just like Naadiya Moosajee, the founder of WomEng. When Naadiya began studying engineering in South Africa, she was struck by how few women were in her class. She learned that only one in ten engineers in South Africa were women, and she set out to change that by founding a nonprofit to mentor and support the next generation of engineers. Now, her organization has outposts all over Africa. Learn more about her story on the BBC.
Tehya / the Women of Standing Rock
In Tehya's Pollution Solution, the context-setting story for A Slick Solution: Cleaning an Oil Spill, Tehya and her friend Sam are alarmed to find an oil spill coating the surface of the local river. For their Lower Elwha Klallam tribe, the Elwha river and all the animals that live there hold a special meaning. When Tehya works with environmental engineers to clean it up, she takes pride in restoring the river to the way it was when her grandmother swam in it generations ago. She would surely admire Ladonna Bravebull Allard, the founder of the Standing Rock Sioux camp opposing the Dakota Access Pipeline, and all of the Native women who are working to protect the Missouri River. Watch the video below to see Kandi Mossett explain what the river means to her and the Native women at the Standing Rock camp, and how strongly she feels about protecting it for "all those that can't speak for themselves."
Have our EiE characters reminded you of any bold, inspiring women? Share with us in the comments below!