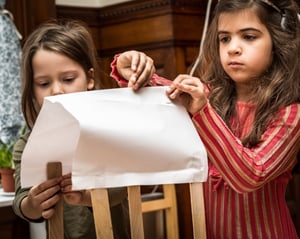 With our society becoming increasingly dependent on technology and STEM literacy, it's becoming even more imperative to close the drastic gender gap that exists within STEM fields. A recent study by Microsoft found that girls and young women tend to lose interest in STEM fields as they age. By the time they finish high school, their interest drops significantly. Microsoft's study reinforces what we've known at EiE for many years: We have to start early. As our founder Christine Cunningham articulated last fall during an AtlanticLive event, "We have to [reach students] before they've been socialized [to believe] that they can't do it." We need to empower all learners and help them see the value of science, technology, engineering and math. These strategies can empower young girls to discover their inner engineer.
Provide Strong Role Models and Mentors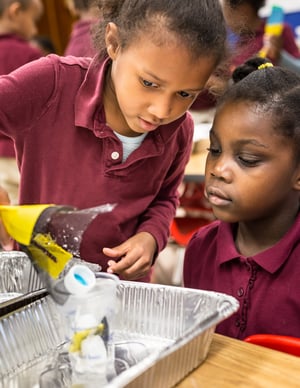 When asked, 57% of children thought engineering was more for boys, even though numerous studies have found no significant gender differences in aptitude for engineering. This means we need to break stereotypes! One way to accomplish this is to provide strong role models and mentors. All learners benefit from exposure to diverse examples of people working in STEM fields. On the EiE blog, we've found real-world examples that connect to our units, dug up great historical examples of incredible female engineers and showcased our modern day heroes. Share these videos and articles with your students, arrange field trips to science museums and/or reach out to local colleges to see if their female students, scientists, engineers or researchers are willing to visit your classroom. The important thing is to make engineering come to life!
Engage Girls in Hands-on STEM experience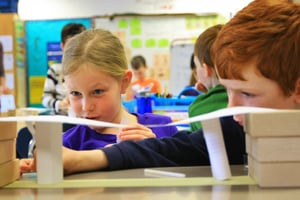 After students engage in high-quality engineering design challenge, they're better able to see themselves as engineers, and "it's harder for someone to come and say, 'You don't belong in engineering,'" argues our founder Christine Cunningham. We've found this to be true after students engage with our curriculum, but this kind of learning and engagement doesn't have to happen only in the classroom! Studies have found that participation in STEM-related clubs and after school programs significantly increase students' interest in STEM careers.
It may take some time, but it's more than worth it to research out-of-school time programs in your local area. For example, recently Girl Scouts released twenty-three STEM badges to foster young girls' interest in STEM fields.
Show Girls the Value of STEM
Most girls understand that engineers "design and build things" but they still have a limited understanding of why engineers are so crucial. We designed our curriculum to demonstrate why engineers are important and how engineers help people because in our research we've found that young girls (and other underrepresented populations) tend to gravitate towards helping professions. Our unit No Bones About it: Designing Knee Braces, for example, demonstrates how biomedical engineers help people and animals just as much as doctors and nurses.
Don't just engage young girls in hands-on STEM, reinforce throughout that what they're learning has value and show them how.
Create a Non-Competitive Learning Environment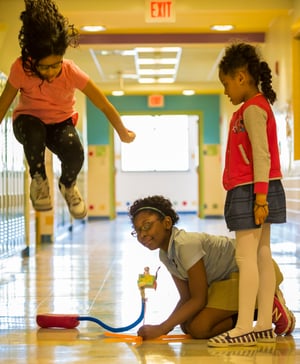 An associate professor in the Department of Science, Technology and Society at the University of Virginia, Joanne McGrath Cohoon asserts that despite findings that demonstrate women engineering students perform as well as men, women are more likely to switch majors than men because "they don't believe that their skills are good enough and they don't feel like they fit in engineering." One reason for this may be competitive classrooms that designate winners and losers. Research has shown many girls and other underrepresented populations value interaction and collaboration over competition. Create a learning environment in which all students' ideas and contributions have value to create a space where different ideas, solutions and ways of thinking can be celebrated! This helps everyone feel like they fit in!
Give Girls Lots of Encouragement
Our founder Christine Cunningham often credits her parents for sparking her interest in STEM at a young age. Her mother took her on long nature walks, subscribed her to science magazines and made sure she had access to science kits and equipment that would empower her to see herself as a future STEM leader. Encourage girls to pursue interests in science, technology, engineering and math by giving them many opportunities.
Our curriculum is designed to help close the gender gap. Learn more about how we help young girls dream up new possibilities.