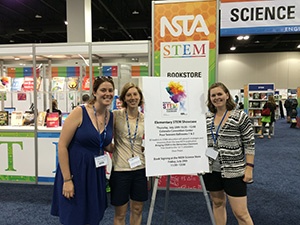 Next week, the EiE team is hitting the road to attend the NSTA (National Science Teachers Association) National Conference in Atlanta! We love conference season here at EiE—it's a blast meeting educators, answering your burning questions, and finding out about the amazing things you're doing in your own classrooms or districts. And when you come visit us at NSTA, you're guaranteed to have fun and learn something new. Find our booth to get a first look at our upcoming early childhood curriculum, engage in some hands-on design challenges, and chat with our PD professionals. Read on to learn more about our booth and sessions at NSTA from March 16th–18th! We hope to see you there.
Our Booth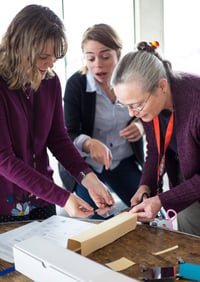 This year, you can find us at Booth #1828. We've got tons of interactive fun for you—our PD team is on hand to lead you through tried-and-true and brand new design challenges. Learn about the power of magnets with our magnetic sailing activity from The Attraction is Obvious: Designing Maglev Systems, and puzzle your way through an optical obstacle course from one of our new Engineering Everywhere units, Worlds Apart: Engineering Remote Sensing Devices. And if you're curious about our early childhood curriculum, be sure to stop by and sneak a peek at Wee Engineer materials and binders. As always, our expert staff will be available to answer any questions you have. We'd love to chat with you!
Our Sessions
We'll be presenting a fun, hands-on session featuring our early childhood curriculum on Thursday, March 15th from 12:30–1:30. And on Sunday, March 19th, our collaborator Joelle Clark of Northern Arizona University will present about our NASA-backed OST units. We can't wait!
The Roots of Innovation: Engineering for Early Learners
Georgia World Congress Center, A303
Thursday, March 15 12:30 PM–1:30 PM
Examine the development of engineering practices for early learners through classroom video and discuss how to foster engineering skills and critical thinking in all young children.
Out-of-School Time STEM Is Out of This World!
Georgia World Congress Center, B202
Sunday, March 18 9:30 AM–10:30 AM
Explore innovative approaches that integrate science and engineering in out-of-school time settings for grades 6–8 students.
Led by one of EiE's collaborators, Joelle Clark of Northern Arizona University.
We're counting down the days to NSTA! Let us know if we'll see you there. And if you can't make it to Atlanta, find real-time NSTA updates on Twitter and keep an eye on our Upcoming Events page to stay up to date on all of our conference activities!