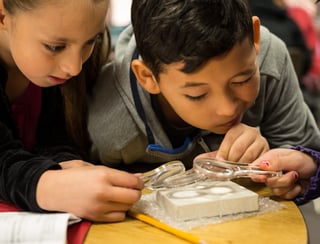 The EiE team is committed to making engineering accessible to all students, including the fastest-growing student population in the U.S. in the last decade—English Learners. It's why we offer Spanish translations of storybooks, family letters, and student handouts for every unit (find them in the Resource tab of each unit page). We know that even when you have the resources, it can feel intimidating to begin an engineering curriculum in a classroom with English Learners. But teachers have told us that the risk is worth the reward—even though EiE requires a lot of thought and preparation, they've seen how EiE excites and engages their English Learner populations. Karissa Weiler; a third-grade teacher at Keeling Elementary in Tuscon, Arizona; loves using EiE with her kids. After we visited her school to shoot some classroom videos, we knew we had to share some of her strategies—when you see her class in action, we think you'll agree! Check out Karissa's five tips below and scroll to the bottom to watch a video of her young engineers!
1. Don't be intimidated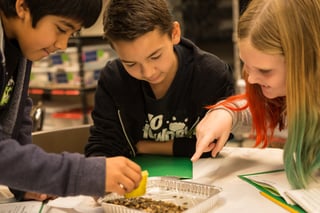 Many teachers feel apprehensive about teaching engineering, a subject they might not know much about. Karissa felt this, way, too—until she dove in! "Don't think 'Ugh, I've never done this before,'" she says. "The best thing to do is to try it. Come to it with the mindset that you're learning, too, and adapt it to your class; respond to what they need." If you're worried that you might forget a term or if your demonstration doesn't turn out perfectly on your first try, don't worry! As Karissa says, "Remember the Engineering Design Process; you can always improve!"
2. Front-load tricky concepts
Karissa knows that learning new vocabulary words can be tough for her English Learners, so she makes sure to start working on them before she begins teaching EiE. She suggests reviewing the unit ahead of time to familiarize yourself with terms that might be unfamiliar to your English Learners, creating and displaying vocabulary cards with pictures around your classroom, and repeating the terms in context a lot. How much is a lot? "I sound like Dora the Explorer because I keep saying the vocabulary words and having [students] repeat them," jokes Karissa. "But it works!"
She applies the same strategy to abstract concepts—for instance, when she taught Solid as a Rock: Replicating an Artifact, she did some rock cycle activities with crayons before she taught the unit to make sure her students' science background knowledge was solid. She says that when you lead in with hands-on science activities, you know your kids will be ready to go when they get to EiE!
3. Use the storybook to fill in gaps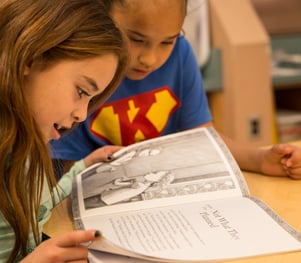 Every EiE unit starts with a context-setting storybook featuring a kid solving a real-world problem with engineering. Karissa says the storybooks make a good reference point for her English Learners—when students come from many different backgrounds, they may not all have the same experience to draw from. When Karissa's students don't understand the examples she gives in class, she always asks them to "remember the storybook"! The common reference point of the character's experience enriches classroom conversations and increases equity among all students.
4. Group strategically
Karissa creates student groups to ensure that everyone has a chance to succeed in the engineering challenge. She says she "pair[s] up the highest need kids with kids who like to model and explain—it's kind of like assigning them a job." She adds that it's important to know your students' strengths, and to keep an eye out for kids who would flourish in a "helper" role. The most "rambunctious" students in Karissa's class will let their friends show them how to do something, "even if they don't want to talk to their teacher about it!" If your English Learners aren't the strongest writers, for example, you might find that they are amazing builders or data collectors. She relates it back to the work of engineers—because teamwork is so vital to engineering, it's important to have a variety of skill sets in each student group so that kids can collaborate and achieve their goals.
5. Get ready for your kids to blow you away!
Teachers always tell us how excited they are when engineering activities bring out another side of their students. Karissa loves the way engineering illuminates brand new skills: she says, "Some kids, you know how well they're going to do, but some kids surprised me with how they stepped up to the plate when they were given a chance to be a leader." She recalls a students' pride when their peers voted for them to be the group's artifact carver and says that these kinds of moments help her "discover a new part of [students'] personalities that [she] didn't know about before." We think that's pretty amazing!
Dedicated educators like Karissa strengthen our commitment to making engineering accessible to English Learners, and to all students. Check out footage of her class in action below!