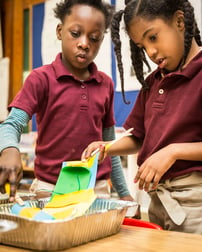 Effective materials management is key to the success of a hands-on, inquiry-based program like EiE. In each teacher guide, our curriculum team included tips to help educators prepare student workstations and organize their classrooms. We developed many of these tips based on the teacher feedback we received during the development process. But we're always listening to and responding to educators' feedback, even after the development process is done. In our quest to make teachers' days easier, we developed additional resources to guide them as they teach EiE. Check out these three resources to make materials management a breeze this school year!
A How-To Video is Worth a Thousand Words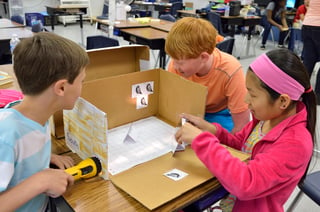 Through our conversations with teachers, we learned just how important visual demonstrations are to those who are preparing to teach EiE. With this feedback in mind, we developed quick video demonstrations to help educators feel more confident as they assemble the base materials needed for our EiE units (like the model knee in Designing Knee Braces) or class testing stations (like the tank in Designing Submersibles). The videos in our How-To Library are designed to save educators time and energy. These quick clips demonstrate how to build model tombs, troubleshoot maglev tracks, and more!
Let's Get Started!
Earlier this year, our video team created a set of four short clips to help educators learn the basic EiE unit structure, how to choose a unit, what's included in the teacher guide, and how to manage materials—the Getting Started Series. In the materials management video, our PD team members suggest how to unpack, organize, and prepare the materials for each unit, and they share storage strategies to keep educators' classrooms tidy when they aren't engineering. Check out the clip below!
We're always brainstorming new ways to support teachers, because we're committed to making the implementation of classroom engineering as easy as possible. If you have any materials management tips to share, let us know in the comments below!