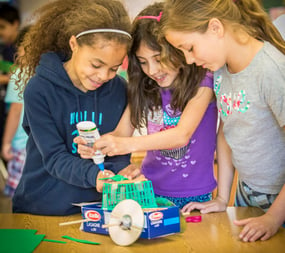 In our out-of-school-time curricula, Engineering Adventures and Engineering Everywhere, we strive to emphasize real-world connections that make engineering feel relevant to youth. You can always find articles, videos, and books on each unit's resource page (find EA resources here and EE resources here!), but our staff is constantly finding new viral videos and articles that relate to our units. Here are four timely connections that will show your kids that engineering is all around them, and is constantly changing the world.
Amazing Architecture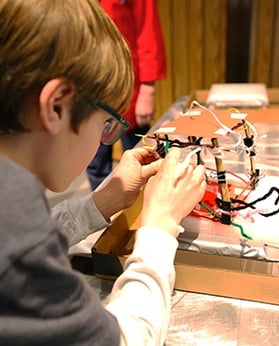 In the Engineering Adventures unit Shake Things Up: Engineering Earthquake Resistant Buildings, kids design and create their own earthquake-resistant model buildings and test the stability of these structures with an easy-to-make homemade shake table. Let historical architecture inspire your young engineers by introducing them to duogong, a bracket comprised of interlocking wooden pieces held together without glue or nails that was first used almost 3000 years ago in earthquake-prone China. Recently, a 1/5th scale model of China's Forbidden City was built—a complex whose many duogong-supported wooden structures have withstood almost 600 years of earthquakes. Watch the video in this article to see the sturdy model duogong withstand a shake table-created 10.1 magnitude earthquake!
Can't Be Beet
In our Engineering Adventures unit Go Green: Engineering Recycled Racers, kids follow India and Jacob to Senegal to compete in a Recycled Racer Rally. In their design challenge, kids are tasked with creating race cars from recycled materials. As they think about recycled cars, they might be excited to learn about the new developments happening at the Eindhoven University of Technology in the Netherlands. Students there have developed "a truly green car": the Lina, a fully functional electric car, has a biodegradable exterior made from beets and flax! The students are touring the country with Lina to raise awareness about green automobiles.
Runoff-Reducing Robots
Don't Runoff: Engineering an Urban Landscape, our environmental Engineering Everywhere unit, introduces youth to the problem of urban stormwater runoff and the damage it can cause to surrounding bodies of water. If you teach in a rural area, you can introduce your students to a pollution problem closer to home: agricultural runoff. This Smithsonian Magazine article explains how agricultural runoff near Lake Erie drained fertilizer into the water, exacerbating a cyanobacteria outbreak that rendered the water in Toledo, Ohio undrinkable for several days. Engineers at the Cooperative Institute for Great Lakes Research at the University of Michigan designed a brand new technology to help them combat this problem in the future: an underwater robotic lab designed to detect pollution levels before the bacteria reaches the water treatment plant.
Mutation Mapping
Our Engineering Everywhere unit Outbreak Alert!: Engineering a Pandemic Response challenges youth to engineer an antiviral and control the spread of a highly contagious disease. During their design challenge, they're faced with a roadblock: the virus structure mutates, and the antiviral they've been designing needs to change to fight the new threat. Earlier this year, two scientists developed a tool to help real biomedical engineers deal with this problem: an open-source website called nextstrain. The site collects pathogen genome data as a virus spreads across a region so that the engineers developing antivirals can track the virus's changing structure in real time. The developers hope that their instant data visualization will help improve outbreak response worldwide.
Have you found articles or videos to support EE or EA units? Share them in the comments below!