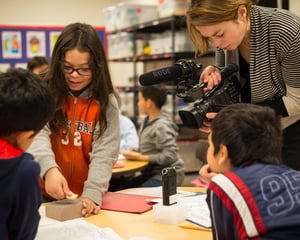 The EiE classroom video collection offers a window into classrooms engaging in elementary engineering across the country. In these videos, you'll see expert teaching techniques in action and hard-working student engineers, as well as short interviews with educators about their experience teaching EiE. Our hardworking video team is committed to filming every lesson of each unit in two different classrooms, so educators and researchers can gain a better understanding of what engineering really looks like in a wide variety of elementary classrooms. With the three latest additions to the classroom video collection, we are very close to reaching our goal of two sets of videos per unit! Read on to learn more about the newest videos, featuring Solid as a Rock: Replicating an Artifact, No Bones About It: Designing Knee Braces, and A Slick Solution: Cleaning an Oil Spill.
Solid as a Rock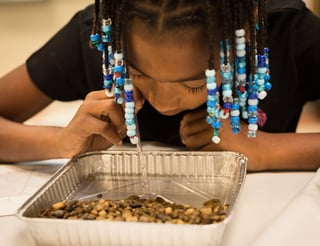 Tuscon educator Karissa Weiler is no stranger to this blog—we featured her expert English Learner tips this past spring. When she taught Solid as a Rock: Replicating an Artifact with her third-grade class at Keeling Elementary, she developed several effective strategies to support her English Learners. In her classroom videos, you'll see her kinesthetic and visual reinforcement of vocabulary words, front-loading tricky science terms, and creating a "word wall" for students to reference as they recorded and discussed their findings. If you'd like to see Artifacts in a classroom with younger students, check out Laura Keeling's second-grade class in Louisville, Kentucky.
A Slick Solution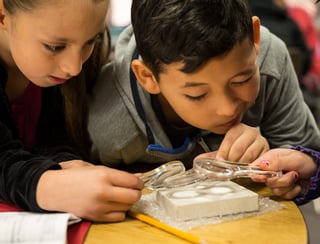 Sandy Schiffman also teaches at Keeling Elementary in Tuscon, Arizona. Her classroom videos follow her fifth-grade class as they become environmental engineers in A Slick Solution: Cleaning an Oil Spill. You'll see how her meticulous materials preparation and classroom organization make this materials-heavy unit a breeze to clean up, and how her classroom management style encourages student participation and successful teamwork. If you'd like to see Oil Spills in a different setting, try Christina Huang's fifth-grade class in Lauderhill, Florida.
No Bones About It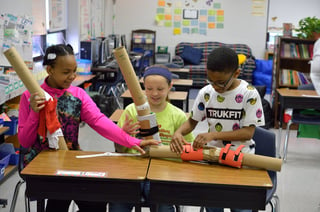 No Bones About it: Designing Knee Braces has plenty of hands-on activities, including a lesson where students create wet footprints on construction paper. Watch Kittery, Maine educator Kate Lantz's classroom videos to see how she manages her third-grade class throughout the unit. She creates an open, welcoming environment where students are confident engaging in hands-on engineering and delivering presentations in front of their peers. If you'd like to see how Knee Braces looks with older students, check out Kathy Wright's fifth-grade class in Jamaica Plain, Massachusetts.
Our classroom video collection is jam-packed with expert teaching tips and footage of student engineers collaborating and communicating effectively, and it's proven to be a valuable resource for educators and researchers alike. Be sure to check out the other videos in the collection for a glimpse into what engineering really looks like in the elementary classroom!