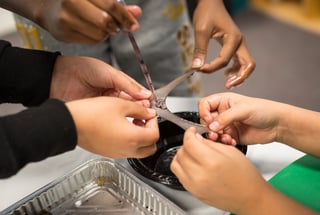 The Engineering is Elementary team is dedicated to making our engineering curricula accessible to all students, including English Learners—the fastest growing group of public school students in the United States. And because 77% of English Learners speak Spanish at home, we are fully committed to supporting educators in their instruction of Spanish-speaking students. Today, the EiE team is happy to announce two exciting project updates that support our mission to bring engineering education to all learners.
Making Engineering Accessible
For the first time ever, Spanish translations of our in-school curriculum's student-facing materials are now available to download for free on our website. For each of our 20 in-school curriculum units, you can now download Spanish translations of:
the storybook,
the family letter,
all of the handouts and digital masters,
and the pre- and post-assessments.
To access these resources, head over to the unit page for the EiE unit. Scroll down to the grey "Resources for this Unit" box. Click on the "Spanish Translations" link, fill out the form, and you'll be taken to a page where you can download all of the student-facing materials needed to teach that specific EiE unit. There, you'll also find a Spanish-language Engineering Design Process poster!
Student-facing materials for our out-of-school time curricula—Engineering Adventures and Engineering Everywhere—can also be downloaded for free from our website. Read last month's blog post to learn how to access our Spanish out-of-school time resources.
See You at WIDA!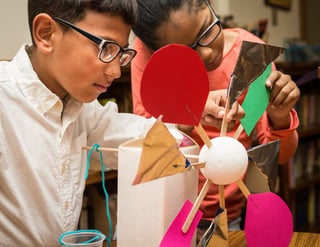 We're also excited to be attending the WIDA 2017 Annual Conference from October 16-19, 2017 in Tampa, Florida. This will be our second year at WIDA, a conference run by an organization that is dedicated to supporting the education and achievement of English Learners. At WIDA 2017, EiE's experienced professional development provider Katy Hutchinson will be facilitating Creating Opportunities for Authentic Discourse through Engineering on Tuesday, October 17 from 10:00 AM - 11:15 AM in Room 19. As Katy guides workshop participants through Lesson 3 of Catching the Wind: Designing Windmills—EiE's in-school mechanical engineering unit—educators will put on their "student hats" while testing materials for and designing their own windmills. During the hands-on portion of the session, Katy will be supplementing her instruction with supports designed specifically for English Learners and diverse learners. Educators will explore materials and design their own sails. Once done, educators will put back on their "teacher hats" and discuss ways their learning was supported by Katy. Participants will come away with an understanding of how classroom engineering provides opportunities for authentic student discourse as well as with concrete strategies for supporting English Learners during engineering activities.
Katy will also be covering similiar content on Friday, October 20th from 12:15 - 1:15 PM during her session Discourse by Design: Supporting English Learners through Engineering Experiences at the Florida Association of Science Teachers (FAST) Conference in Orlando, Florida.
As always, keep an eye on our blog for announcements about our ever-growing collection of differentiated resources for classroom engineering instruction—NIMAS files for our in-school curriculum will be available to download soon! Are you attending the FAST or WIDA conference this year? Let us know in the comments—we can't wait to see you there!