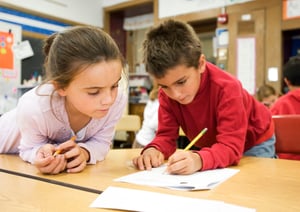 Did you know our curriculum team designed the EiE engineering curriculum to support literacy instruction? We created literacy resources, like our context-setting storybooks, to enhance our units and emphasize the importance of written communication. In honor of National Literacy Month, we wanted to share a few examples of how our curriculum supports literacy instruction and offer fun extension lessons that can help you incorporate creative writing into every EiE unit!
Bridging the Gap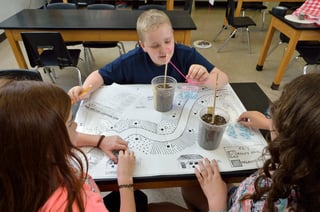 In several EiE units, we support literacy instruction by encouraging students to write letters to fictional clients arguing for their design decisions. In one of these units, A Stick in the Mud: Evaluating a Landscape, students are challenged to select a safe site for a TarPul cable bridge that will help Nepalese villagers cross a flooded river. They are provided with a model riverbank to investigate soil properties and a map to understand potential erosion risk, but they must also factor in the villagers' preference for a TarPul location—the safest, most stable location may not be close enough to the villagers' clinic and school. When students "improve" their design in this lesson, they must write a report to the village elders detailing their recommendation for building a safe, strong TarPul across the river. This not only challenges them to develop a key engineering habit of mind (making ethical choices), but it gives them a chance to practice writing formal, persuasive letters.
Brace Yourself
We also guide students' literacy instruction with handy letter-writing templates. In several of our units, we include a friendly-letter template and a business-letter template so educators can align with their class's writing goals. Students get the chance to flex their writing skills when they explore the field of biomedical engineering in No Bones About It: Designing Knee Braces. In the design challenge, they're tasked with building a knee brace that will restore a full range of motion to an injured knee. But during the prep lesson, students learn about a different side of biomedical engineering when they are asked to make a recommendation to a shoe manufacturer about the design of a running shoe. After they collect data from their classmates, they fill out the letter template by explaining the importance of data in decision-making and detailing their design recommendations. We even include our mailing address so they can send their letters to the EiE offices!
Get Creative!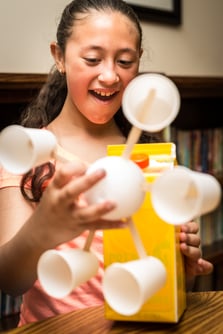 In our resource library under content area connections, you can find extension lessons to support math, science, ELA, social studies, and art integration. We include lessons written by our staff and creative submissions from EiE teachers—for example, "The Best Windmill," a Catching the Wind: Designing Windmills extension submitted by Timothy Harkins. Timothy challenged his class to write a fictional story about their windmills and how those windmills can be used to solve a problem. This lesson encourages students to think of different ways to use windmills, and helps them develop important creative writing skills! You can apply Timothy's bright idea to any of our units—students may be interested in writing stories about small changes they can make to help their local environment, or the places they could build a maglev transportation system.
Have you found creative ways to incorporate writing into your engineering lessons? Tell us about it in the comments below!