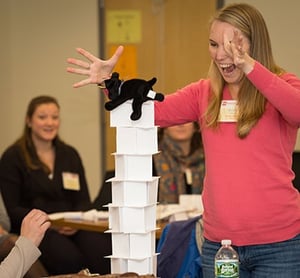 The EiE professional development team has been hard at work developing a suite of PD experiences that fit the diverse needs of elementary educators. If you're looking to improve your teaching practice this spring, it's the perfect time to check out what EiE PD has to offer. In February, join us for two free webinars: Fostering Engineering Habits of Mind in Students and Meaningful Integration of STEM in Elementary Classrooms. Or be one of the first to experience our brand new, three-part online professional development series, Intro to Engineering for Elementary Educators. And for an in-person experience, join us in Boston on March 8–9 for the hands-on, introductory Everyone Engineers workshop. Read on to learn more and register today!
Intro to Engineering for Elementary Educators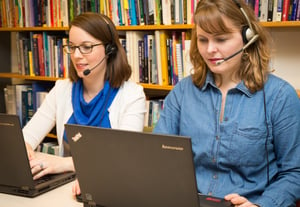 To provide more support to even more educators across the U.S., we're excited to roll out a brand new PD experience that you can complete from the comfort of your own couch. This three-part online professional development series introduces elementary educators to the concepts of engineering and technology and prepares educators to facilitate EiE units with their students. Each 90-minute session is facilitated by an experienced EiE PD provider, and participants will have the opportunity to reflect on their learning in 30-45 minute follow-up activities. Participants will receive an EiE Teacher Guide of their choice along with a certificate of completion. Registration is $100 and spaces are limited, so be sure to register today!
Session 1: What is Technology? What is Engineering?
Saturday, February 17 11:00am - 12:30pm EST
Session 2: Engineering in the Elementary Classroom
Saturday, February 24 11:00am - 12:30pm EST
Session 3: Preparing for Implementation
Saturday, March 3 11:00am-12:30pm EST
Fostering Engineering Habits of Mind in Students
At EiE, we believe that a well-designed engineering curriculum develops "engineering habits of mind," or positive strategies for problem solving, that help define success not only in engineering but also across the curriculum. In this one-hour session, you'll build an understanding of how fostering these engineering habits can support student critical thinking and problem solving, and you'll explore how you can continue to support students in applying these ways of thinking. Register now for our free session on February 14th!
Meaningful Integration of STEM Subjects in Elementary Classrooms
Have you ever taught an integrated engineering lesson that is so engaging, it encourages even the most ardent math-hater in your classroom to complete some challenging calculations without a word of complaint? Integration between STEM subjects can be incredibly valuable to young learners when it's done in a meaningful way. This one-hour, interactive session will ask you to consider what meaningful integration of STEM subjects looks like in the classroom and which characteristics of an integrated lesson can add value to student learning and understanding. Register now for our free session on February 28th!
Everyone Engineers!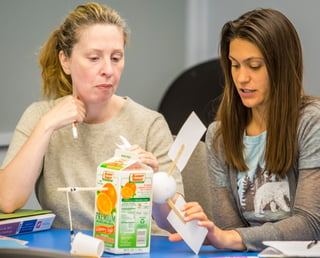 This learner-driven workshop is designed to build your knowledge of engineering and your confidence in teaching it. You'll get hands-on experience with EiE materials and insights into the most effective strategies for teaching the curriculum. Join us in Boston March 8–9 and get prepared to teach any EiE curriculum unit with ease!
There is no shortage of PD opportunities on the horizon, so we hope to see you soon!