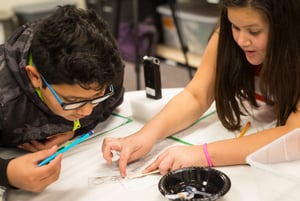 The EiE team has found that young engineers are most engaged when they're working on solving problems that connect to their own lives. Throughout our in-school and out-of-school-time curricula, we highlight the relevance of engineering and technology. And because our units are focused on engineering design challenges set in the real world, our team is constantly finding videos and articles that relate to our units. Check out the real-world connections below and share them with your class to show kids how engineers are changing the world every day!
Fits the Bill
In our Engineering Everywhere unit Go Fish: Engineering Prosthetic Tails, youth learn about prosthetic limbs and design models of a leg for an elephant, a beak for an eagle, and a tail for a fish. Before youth begin their design challenge, get them excited to help all creatures great and small by sharing this Education Week blog about a middle-school class that designed a real prosthetic leg for an injured duck! The class went through multiple design iterations, considered various criteria and constraints, and always persisted through failure. These young engineers (and the adorable duck, Peg) are sure to inspire your class.
Can You Smell What the Solar Oven is Cooking?
Our Engineering is Elementary unit Now You're Cooking: Designing Solar Ovens challenges students to build functional cardboard solar cookers using their knowledge of conductors and insulators. If you want to show students how architects are embracing solar power, check out The Sun and Moon Mansion, a state-of-the-art solar-powered hotel in China. The chefs there cook up tasty meals in a rooftop commercial solar kitchen!
Magnetic Attraction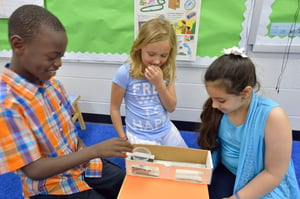 Our Engineering is Elementary unit The Attraction is Obvious: Designing Maglev Systems features magnetic-levitation trains, which move by magnets instead of wheels. This type of transit system has been featured in the news recently because of the Hyperloop, a super speedy train that utilizes maglev technology. In December 2017, it set a new speed record at a blazing 240 miles per hour! The maglev systems that kids design in this unit won't be quite that fast, but they might be interested to learn how the Hyperloop team uses maglev technology and air pressure to achieve those subsonic speeds.
Space Invaders
Our Engineering Adventures unit Hop to It: Safe Removal of an Invasive Species challenges kids to engineer humane traps to prevent the spread of invasive cane toads in New Zealand. Along the way, kids learn about what makes the cane toad so dangerous to native species, and how invasive species can wreak havoc on an ecosystem. For an additional real-world invasive species connection, show students how scientists and engineers are dealing with invasive species in other parts of the world: trained working dogs in Montana are sniffing out invasive weeds, and some genetic engineers are debating the use of human-designed modified genes in invasive species eradication. For an out-of-this-world connection, show the Star Wars fans in your class this article from the Verge, which makes the case that The Last Jedi's cuddly "porgs" are an invasive species!
Do you use timely articles and videos to motivate students in your classroom? Share with us in the comments below!