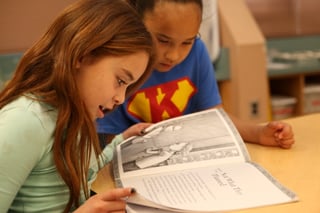 You probably know EiE engineering curriculum aligns with the science curriculum you already teach. But did you know that we designed our curriculum to support literacy instruction as well? We believe that literacy resources, like our context-setting storybooks, enhance all of our units—for instance, students are engaged and excited about designing a maglev transportation system after they read our engineering story about Hikaru, a young boy designing a technology to help his family's toy store. And when students take on the roles of farmers and bugs in a play about pest control, they'll feel immersed in the world of agriculture and ready to design hand pollinators. Because we know literacy learning and engineering instruction can go hand in hand, we've designed additional educator resources for educators who want to strengthen the literacy connections in their classrooms and/or afterschool programs.
Picture This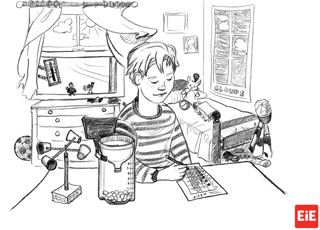 Did you know that PDFs of every EiE storybook illustration are free to download on our website? With these high-quality PDFs, you can project large-scale renderings of the illustrations as you read, or you can use them to strengthen key literacy skills like reading comprehension, making predictions, plot sequencing, and vocabulary development. Read more about these strategies in this blog post, and find the illustrations on each unit page or in our resource library.
ELA-ted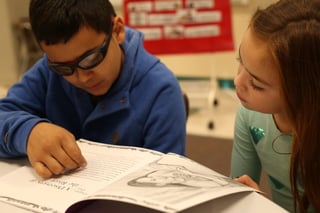 Have you browsed our Content Area Connections library? It's jam-packed with extension lessons written by our team and EiE educators, organized by unit and subject area. You can find lessons connecting to science, math, social studies, art, and language arts! If you're looking to check in on students' reading comprehension after completing Javier Builds a Bridge, for example, you can try "Understanding Characters" to see how well they can assess Javier's personality traits, "What Did the Story Say?" to see how well they comprehended the plot, or "Drama," which invites your students to act out a play with the story's dialogue!
Read On!
You can also find Reading Resources for each unit within our Content Area Connections and on each unit page. These are carefully compiled lists of fiction and nonfiction books for a variety of grade levels that align with the subjects explored in our units. If you're teaching An Alarming Idea: Designing Alarm Circuits, the Reading Resources include the fictional The Magic School Bus and the Electric Field Trip to take kids on a journey through power lines, and the nonfictional Switch On, Switch Off for a closer look at how electricity is produced and how it can be used. These books are excellent tools for students who are interested in delving deeper into science or social studies subjects, or for giving your students background knowledge before you begin the unit.
OST Tip: We've also compiled lists of books and articles for our Engineering Adventures units. You can find them in our Additional Educator Resources pages.
How have you connected literacy and EiE? Let us know in the comments below!