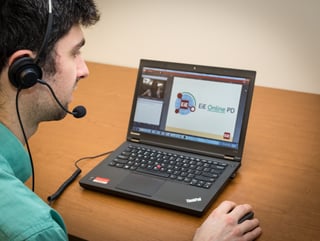 We know that in July, the last thing educators want to think about is the upcoming school year—but hear us out! This August, we're offering an exciting, free online professional development opportunity: Getting Started With EiE. With this back-to-school webinar series, you can get a jump start on your professional development and feel confident about teaching engineering in the fall. This series is for EiE educators who need a little support from our PD team—like those who are brand new to teaching engineering, those who have an EiE materials kit sitting unused on their shelves, and those who need a refresher on how our curriculum materials work. In this interactive series, you'll connect with our PD providers and other educators to get ready to dive into hands-on engineering instruction with ease. Best of all, you can attend these free sessions from the comfort of your own home!
Adding Engineering to Your Curriculum
In this "EiE 101" course, you'll learn about the structure and design principles of EiE units. Participate in fun, interactive activities and chat with our PD providers and fellow educators to learn about EiE's definition of technology, common misconceptions about engineering, and how we connect engineering and technology in our units. You'll come away with helpful tips about how to incorporate hands-on learning into your own classroom this fall.
Materials Management
If you've ever seen an EiE materials kit, you know that our units are materials heavy! Hands-on, problem-based activities require a lot of advanced preparation, but the results are well worth the effort. And of course, our PD team is here to walk you through every step! In this session, you'll get a tour of our online store, learn about creating models and preparing testing stations for your class, and get tons of tips about materials management.
Where Do I Sign Up?
We are offering two different time slots for each one-hour session for your convenience.
Session One: Adding Engineering to Your Curriculum
Session Two: Materials Management
Registration is open, so sign up now to secure your spot. Now get back to your summer fun; we'll see you in August!