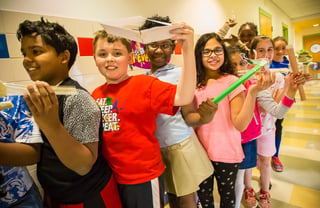 A few weeks ago, we asked you to complete a reader survey. We were blown away by our readers' enthusiastic response! You gave us tons of great information that will help us make the blog and newsletter even better for you. You also asked some excellent questions about the blog, newsletter, EiE curriculum, and everything in between. We wanted to make sure we shared the answers with all of our readers!
How can I subscribe to your blog/newsletter?
It's easy to subscribe to our blog and our newsletter! Enter your email here to receive monthly newsletters, or enter your email in the "Subscribe to Blog Updates" box on the right-hand side of any blog page to receive biweekly blog notifications.
I would love to come up to Boston for a PD workshop. Do you offer scholarships, grants, or other types of stipends?
Keep your eye on the blog, newsletter, and scholarships page to get the most up-to-date scholarship information. If you're looking for grant tips, check out our Top 7 Tips for Getting a STEM Grant blog and our Outreach Toolkit to assist you in finding opportunities, budgeting, and writing grants.
I'm having trouble locating materials for a unit. Can you help?
The materials kits in our online store include everything you need to get started—we receive bulk discounts on our materials and pass those savings along to you to keep our units as accessible as possible. For first-time EiE teachers and veterans alike, these kits can be an invaluable time-saving resource. They are thoughtfully assembled to ensure that you have the right materials to help your class succeed in the design challenge. But if you'd prefer to source the materials yourself and you're having trouble finding something, our customer service team is always available to lend a hand! Give them a call at (617)-589-0230 or fill out their handy contact form.
The stories that come with the units are full of great information, but are too lengthy for my students. Do you have plans to make shorter versions?
We're glad you asked! The EiE team has been hard at work creating digital versions of all 20 of our storybooks. Educators will be able to customize their reading experience to best fit the needs of their class, and this includes the option to toggle between an original and abridged version of each storybook. Be on the lookout for a big Digital Storybooks announcement this Tuesday on the blog!

Do you have any curriculum units that are appropriate for middle school?
Our out-of-school-time curriculum Engineering Everywhere is designed for youth in grades 6–8. With topics ranging from outbreak prevention to bioplastics and exciting context-setting videos, these units are guaranteed to get youth excited about engineering challenges!
Are your units aligned to NGSS/my state standards?
We designed each of our 20 in-school units with careful attention to state and national academic standards. The EiE team keeps their eye on the latest education news across the country and we're continually revising our alignment guides as states adopt new standards. Take a look at your state's standards to see which unit maps best to the standards you're already teaching! If your state has adopted the Next Generation Science Standards you can see how our curriculum supports NGSS here.
Got more questions? The EiE staff is always available to answer them! Visit our Contact Us page and reach out to us any time. We'd love to help!