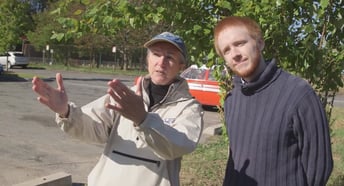 Are you having trouble getting middle-school-aged youth engaged in engineering challenges? When we developed our out-of-school-time curricula for grades 6–8, Engineering Everywhere, we committed to creating an additional free resource: the Special Report video library. We developed these 10-15 minute videos to set a context and get middle schoolers excited about engineering. Each video features an Engineering and Technology Correspondent who introduces youth to a field of engineering by speaking to experts about the problems they solve. These videos are engaging and entertaining, and show youth how vital the Engineering Design Process is in the real world. Check out three of our favorites and see how an exciting video can energize the young engineers in your program!
Watch Your Head
In our biomechanical engineering unit, Put a Lid on It: Engineering Safety Helmets, youth are challenged to engineer a helmet that will protect an athlete's head from damage if they fall head first. The unit contains lots of information about the history of helmets in contact sports, and the context-setting video is quite a thrill ride! The video is hosted by Serenity Caldwell, a roller derby player who brings you into a derby rink to demonstrate how hard-hitting the sport can be. Then, she visits doctors at a brain bank to find out exactly why protecting your brain is so important. Youth learn how the Engineering Design Process helped engineers design effective helmets, and the video ends with a question that sparks the design challenge: what will the helmets of the future look like?
Seeing Green
Don't Runoff: Engineering an Urban Landscape introduces youth to the field of environmental engineering by asking them to design a cityscape that will prevent pollution from storm water runoff. In the context-setting video, youth meet hydrology expert Kate Bowditch to learn more about how stormwater picks up pollutants from city streets and carries them into local waterways. Youth see how the Engineering Design Process helped environmental engineers develop creative solutions, like permeable pavement and swales, that strike the right balance between the needs of an urban environment and the protection of the natural world. This video introduces youth to the technologies they'll be utilizing in the design challenge, so they're prepared to take on this green engineering challenge.
We All Scream for Ice Cream
Our tastiest unit, Food for Thought: Engineering Ice Cream, invites youth to take a deep dive into the process of creating the perfect ice cream recipe. The context-setting video is just as fun as the design challenge: the host (and EiE staffer) Ian Burnette visits two different ice cream parlors in Boston to learn how they utilize different processes to create delicious frozen treats. Youth learn how liquid nitrogen can be used to freeze ice cream instantaneously, and hear about the process of developing unique flavors (just because it sounds good, doesn't mean it tastes good!). At the end of this video, youth will be more than ready to dive into process engineering and develop their own ice cream recipe!
Have you used Engineering Everywhere Special Report videos in your classroom? Which one is your favorite? Tell us about it in the comments below!