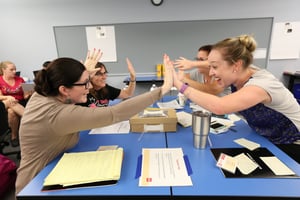 At EiE, we know that professional development is important for engineering educators. Our PD workshops introduce you to the EiE curriculum; increase your knowledge of engineering, technology, and the Engineering Design Process; boost your confidence in teaching engineering; and enhance your ability to implement open-ended engineering design challenges with your students. We offer a wide variety of workshops for teachers, teacher educators, and out-of-school time providers, and we're proud of our unique, hands-on offerings that have turned many STEM skeptics into true engineering believers. For those who are new to PD, the number of options can feel overwhelming, and for PD veterans, it's exciting to hear about what's coming up next. So read on to learn more about online PD, TEIs, our upcoming early childhood PD, and more!
I just want training for myself! Do you offer anything for solo teachers?
We host plenty of workshops at the Museum of Science, Boston for individual elementary teachers who are new to EiE and for those who want to improve their EiE teaching practice. Check out our "Choose the Right Workshop" guide to see which workshop sounds like a good fit for you, and come see us in Boston!
I can't make it all the way out to Boston for a PD workshop. Can someone come to my school?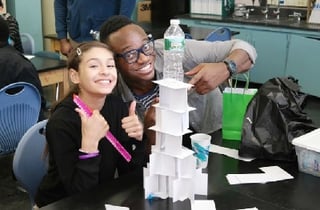 If you can't make it to the Museum of Science for a workshop, we can always come to you! On-site PD workshops, which are facilitated by EiE PD providers or members of our Extended Network, can be tailored to meet the needs of your school, district, or organization. Check out our "Workshops at Your School" page to learn more.
That on-site workshop sounds great, but how much will it cost?
Our new workshop pricing guide makes it easy to see how much an on-site workshop will cost!
I have a lot of teachers in my district who need training. What should I do?
If you need to train a lot of teachers in your district, a great solution is to send a professional development provider to a Teacher Educator Institute. Our immersive Teacher Educator Institutes are designed to prepare professional development providers to facilitate workshops for the teachers in their own school districts. After PD providers attend a TEI, they'll be ready to convey the core values and understandings of the EiE curriculum and facilitate active, immersive EiE workshops that the teachers in their district will love!
I have no time during the school year! When can I come to a workshop?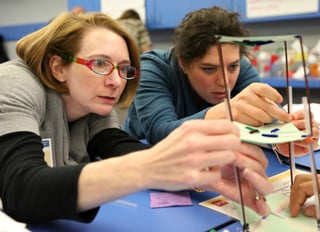 We know that the school year is a busy time for teachers, which is why we schedule plenty of summer workshops! This year, we're hosting four workshops at the Museum of Science in July and August:
July 12th–July 14th, 2017: Teacher Educator Institute
July 20th–July 21st, 2017: Everyone Engineers!
August 2nd–August 4th, 2017: Teacher Educator Institute
August 10th–August 11th, 2017: Linking the E & M in STEM
There's still time to register, so come visit us!
Do you offer PD scholarships?
We sure do! There are currently no scholarships available, but keep your eye on the blog and on our scholarships page to get the most up-to-date scholarship information.
Can I do PD on my own time/from my own couch?
We're very excited about our new Online PD offerings—they enable you to engage in EiE PD on your own time, from the comfort of your home! Check out recordings of past webinars, subscribe to our newsletter to stay up-to-date on the latest online PD offerings, and get ready to register for our free Back-to-School webinar series, coming up this August!
I'm excited about early childhood engineering! Will there be PD?
Absolutely! The PD team is hard at work developing PD to support our early childhood curriculum. Learn more about our preschool curriculum, Wee Engineer, in our blog roundup, and be on the lookout for updates about EiE for Kindergarten.
You still didn't answer my PD question!
If you've got more questions, email eiepd@mos.org or leave us a comment below!