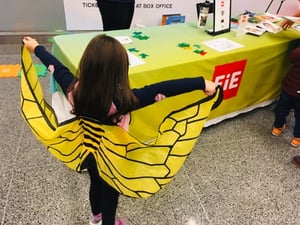 From everyone here at EiE, thank you for making 2019 a terrific year. We have loved hearing your stories, seeing your learners discover their inner engineer, and seeing you connect and share ideas with each other!
This year, we were honored to receive a CODiE Award for Best PreK/Early Childhood Learning Solution for our Wee Engineer curriculum, we worked with Questacon to bring EiE to classrooms across Australia, and we released a new, NASA-themed Engineering Adventures unit. Behind the scenes, we have been hard at work developing new EiE experiences that will help you develop your learners' STEM identity—and even engage their families in the engineering fun!
We've also loved getting the chance to share your stories. On the blog, we featured a classroom of problem solving powerhouses and a school district adopting EiE thanks to tireless commitment from a star educator and hands-on principal. And on social media, we've seen a ton of inspiring classroom moments, from dramatic testing videos that engage the whole class to creative student designs that really break the mold. Below, check out some highlights from this year:
When you design solar ovens, you get to cook (and eat) s'mores at 9:30 in the morning. @tullyelemjcps @EiE_org pic.twitter.com/ONJABjngc0

— TJ Hofmann (@TullyStem) November 26, 2019
These little ones keep me smiling! They love songs and they were so excited to share the Engineering Design Process song they learned in STEM class with @MissGunnsOwls. @FreemanTigers #TogetherWeCan #BeTheException pic.twitter.com/MKAJyznhOk

— kgkinder (@kgkinder1) November 22, 2019
Wow what an amazing engineering club showcase today. We had parents and teachers come see what their students have been working on! They built earthquake resistant buildings to withstand a 7.0 magnitude earthquake! @TampaBaySTEM @JustES_STEM @WeAreHAEST @EiE_org @AchievementSch pic.twitter.com/tIBaqfr6He

— Amanda Crane (@AmandaSciTeach) November 20, 2019
Today at @sacademy268, 2nd graders completed their final test on their aid drop packages using water balloons. After 3 weeks of iterations, not a single balloon popped! Thank you @EiE_org @DonorsChoose #goscholarsnj #goodtogreat #failforward. https://t.co/UUS2vabTiH pic.twitter.com/AuA7QxEczS

— KateDormann (@DormannKate) December 5, 2019
When your kindergarten class wants to make one giant dog shelter for Penny after making individual ones, you kind of have to take the time to do it. It is part of the @EiE_org Designing Shelters unit. I was proud that they wanted to make it like the idea at the end of the book. pic.twitter.com/Jy4hV7oPaG

— Kristen Albright (@albrightteacher) November 15, 2019
Our Pre-K environmental engineers created their trash collectors based off of the plans they made last week! They even improved their designs along the way! Thanks to their hard work, they were able to save Danny the Duck! #TigerStrong #CollaboratoryCubs pic.twitter.com/a5SVbwIE1X

— Brittany Murro (@BrittanyMurro) June 5, 2019
I may not speak English...yet, but I have great ideas and can create an amazing trap @BrookfieldES @fcpsaap @EiE_org #canetoadtrap #youngscholars pic.twitter.com/RKwhFM0eH9

— Sheri Reed (@BrookfieldAAP) November 15, 2019
I am grateful for my why... this whole class started cheering for this team. 102 hex nuts! My students amaze me and teach me everyday! @FreemanTigers #BeTheException #TogetherWeCan #EIEInspired @EiE_org pic.twitter.com/rzdL03xCAV

— Miss Gunn (@MissGunnsOwls) November 21, 2019
In 2020, we can't wait to tell you more about new and updated Computer Science and engineering units, as well as family-focused engineering activities. Like all of our curricula, these new offerings are undergoing extensive pilot testing to ensure that they integrate seamlessly into classrooms, so educators can focus on what they do best—engaging and inspiring their students.
Have a safe and happy holiday season, and we'll see you in the new year!