Incorporating learning time with family time has been shown to have a positive impact on learners of all ages. Not only does it increase attendance and graduation rates, but it also provides opportunities to develop essential social and emotional learning skills. But where to begin?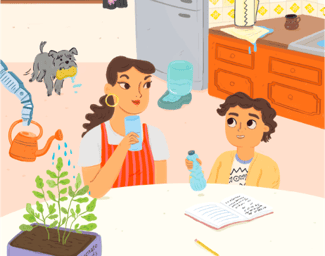 EiE Families offers fun, free activities for learners ages 4–11 to encourage families to enjoy engineering together. Working on these activities as a family can help children develop creative problem-solving skills, collaboration skills, and resilience.
Each activity is designed to promote improvement, giving families a chance to make their design more effective, and destigmatizing failure — which will help children begin to value setbacks for what lessons they can bring. Each activity book ends with suggestions for how families can extend the activity and continue learning together.
EiE Families activities serve as a catalyst for increased engagement in STEM learning, giving families the confidence and interest to seek out additional ways to continue learning together. By working together, families can spark a love of STEM that will continue to grow and benefit learners throughout their lives.
Start your family-STEM journey today and discover the joy of learning together. Click here to find a free activity for your family and begin your STEM adventure.
For a deeper dive into the power of family engagement in STEM check out the published work Family STEM Learning: Resources to Inspire Interest and Engagement in the March 2023 edition of the Elementary STEM Journal.
Let's make STEM learning a fun and engaging experience for the whole family!