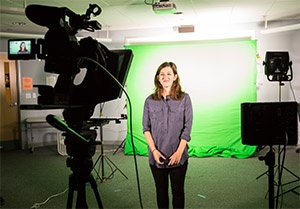 When you first sit down with an EiE binder or materials kit, it can feel overwhelming. There are prep lessons, assessments, storybooks, diagrams, student journals, and a seemingly random assortment of craft materials—it's easy to start jumping from item to item and get lost in the shuffle. We've heard that feedback before, and that's why our video team set out to create a set of four short clips that help you dive in to our in-school curriculum. If you're brand new to EiE, the 10 minutes you'll spend watching this set of videos will save you tons of time in the long run. If you're an EiE pro, you might learn something new . . . and they're fun to watch, too!
How to Choose a Unit
Choosing a unit from our 20-unit collection can be a daunting task. You might wonder if the units are right for your second-grade class, or if they align to your state science standards. Luckily, we assembled a crack team of EiE experts (Kate Sokol, curriculum designer and guest blogger; Nia Keith, PD provider; and Kate Lantz, EiE teacher) to guide you through the process of choosing a unit. Check out the video below to learn more!
Teacher Guide
The EiE Teacher Guide has so much information in it, it can leave you feeling as overwhelmed as the hapless teacher featured in these videos (played by Richard Sutton, an EiE video team member)! Luckily, it was designed to make teaching EiE as easy as possible. Let the EiE experts show you how to navigate the guide and teach EiE with confidence in the video below.
Lesson Structure
EiE units have quite a few lessons, and you may be wondering if they're really all equally important. The truth is, the lessons were laid out to build upon each other, create a meaningful context, and scaffold the development of engineering processes, and all of them are important! The EiE experts will tell you more about our lesson structure and how it supports learning across multiple subject areas in the video below.
Materials Overview
Now that you've picked a unit and ordered your materials kit, you might be looking at your crate of materials and wondering where to begin. The EiE experts can help—they'll show you where to find resources that will help you unpack, organize, and prepare your materials for each unit. It can be a lot of work, but it's worth it! Learn more about the messy, rewarding business of materials management in the video below.
But Wait, There's More!
If you'd like to learn more about adding engineering to your curriculum and materials management, check out our Online PD Recordings from last month's Getting Started With EiE webinar series. You'll learn invaluable tips and tricks from EiE's expert professional development providers, on your own time!