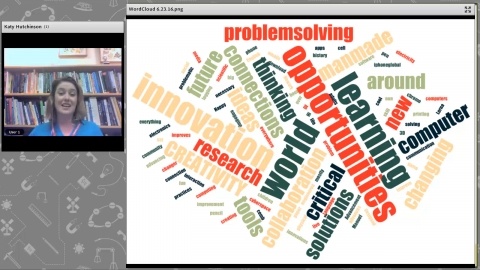 New EiE PD offerings will include both on-demand and live, interactive sessions.
We know that elementary teachers value high-quality STEM professional development (PD). We also know that funding for PD can be limited, and even when there is plenty of funding, it can be hard to get release time from class, or find a sub to cover. What's the solution? Engineering is Elementary is developing a suite of online professional development resources for K-8 engineering educators. We're pleased to share that our first offering, "Introduction to Engineering for Out-of-School-Time Programs," is now available.
Flexible PD That Works With Your Schedule
"Introduction to Engineering" is an hour-long session you can get on demand—watch it at a time that's convenient for you! It's designed to help out-of-school-time educators get started teaching EiE's Engineering Adventures curriculum (for grades 3–5) or Engineering Everywhere curriculum (for grades 6–8). You'll also learn about the wide variety of free resources for teachers of engineering that are available on the EiE website, like our Video Snippets, extension lessons, and downloadable PD Guide for out-of-school-time educators.
Coming Soon: More Choices in Online PD
This new on-demand EiE Webinar is just the starting point. EiE's professional development team is currently creating and pilot-testing more webinars and a variety of other novel digital resources for K-8 engineering educators, including
EiEXchange sessions that focus on effective strategies for teaching engineering,
EiE Follow Up sessions where EiE teachers can share classroom successes and challenges and collaborate to improve the way engineering is taught, and
EiE ShareOuts designed to help certified EiE professional development providers expand their workshop facilitation skills and knowledge of the elementary education field.
In fact, our first EiEXchange session is coming up soon! It's called Investigating What Makes Integration Between STEM Subjects Meaningful, and it's scheduled for August 24th. This live, interactive webinar will give you strategies for integrating engineering with the science topics you already teach and demonstrate how engineering can help you to meet Common Core State Standards for Mathematics.
And mark your calendar for September 29th, when we'll offer a second EiE Webinar: "Fostering Habits of Mind: Encouraging Elementary Students to Think Like Engineers."
Subscribe to EiENews or follow us on Facebook or Twitter to get alerted when registration opens for this engaging session.
Support from Cisco Helps Make it Happen
EiE's pilot project to create online professional development is made possible by a Global Impact Grant from Cisco Systems, Inc. "EiE already offers professional development workshops for teachers through a national network of partners," says Christine Cunningham, EiE director and Museum vice president. "But not every teacher can attend a conventional, face-to-face workshop. We're so grateful to Cisco for enabling us to enabling us to expand our menu of PD offerings into the digital realm, making EiE PD more widely available."
We're excited to expand our support for engineering teachers with these new online PD resources. See you at the webinar!
Engineering is Elementary is a project of the National Center for Technological Literacy® at the Museum of Science, Boston.