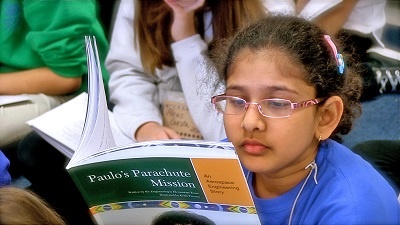 Classroom engineering can help meet your goals for ELA instruction!
Reading is a clear priority in elementary classrooms across the nation. The average
K- 3 elementary student gets nearly an hour and a half of reading/language arts instruction each day, according to the 2012 National Survey of Science and Mathematics Education. Science and engineering instruction are a much smaller part of the school day in most schools. But here at EiE, we've found that reading and engineering are natural partners.
Storytelling Sets the Context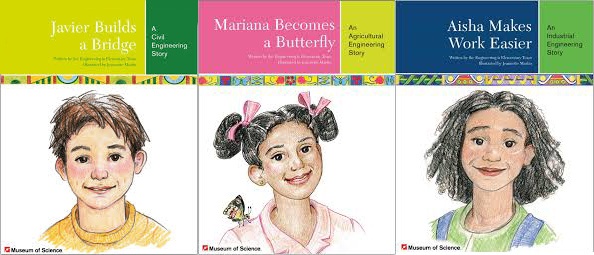 Students identify with the storybook character, and the challenges they face.

Several of the curriculum elements in EiE create great opportunities to support your learning goals for English Language Arts. For example each EiE engineering design challenge starts with a storybook that shows how a child solves a problem through engineering (stories are a great way to set a real-world context for learning).

We chose stories that present real problems—things that young children can identify with, like building a wall to keep hungry rabbits out of a garden, designing a safe and sturdy bridge to reach an island play fort, or making an alarm system that reminds you when it's time to do an afterschool chore. Such scenarios help young children see how engineering relates to their own day-to-day experiences—and also how it's a "helping" profession that makes a difference in the world.

Read, Discuss, Write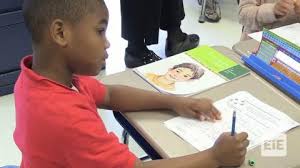 Engineering builds both reading and writing skills.
At the same time, the engineering storybooks offer a variety of opportunities to work on building reading and language skills. They were thoughtfully written using age-appropriate vocabulary words, and the matching Teacher Guide supplies questions you can pose to their students before during, and after reading the story. These questions prompt students to discuss, write, think, and make connections. Students can also create their own journal to explore the story topic, or write a creative essay tied to story content.
Extra Resources for Literacy Instruction
The connections between reading and engineering aren't limited to the introductory storybooks. For every EiE unit, there's a curated list of literacy resources—age-appropriate books and articles we've identified that can help kids explore the subject of the story in more depth. We also have literacy extension lessons for many units.

Engineering is Motivating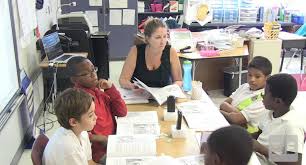 Students find engineering highly engaging.
Not only does engineering integrate well with reading, it can actually can motivate children to work on their reading skills. "Students have a real incentive to learn to read when NOT being able to read prevents them from doing something engaging," notes Dr. Gerhard Salinger, the retired program director of the National Science Foundation's Discovery Research K-12 program. "Engineering programs like EiE that involve engaging, hands-on activities can increase students' desire to learn to read."
How Will YOU Use the Storybooks?
We hear constantly from teachers who are thinking up new and creative ways to use the EiE storybooks in English Language Arts instruction. For example, educators at Mesa Public Schools wanted to make sure the stories would be accessible for all students, so they engaged a professional storyteller to tell three EiE stories and videotaped her performance. They've generously made these videos available for other schools to view. Check out Javier Builds a Bridge, Michele's MVP Award, and Yi Min's Great Wall.

Meanwhile, fifth graders at Brentwood Magnet Elementary School of Engineering in Raleigh, North Carolina, created "talking books" by reading and recording EiE storybooks. Teachers at Brentwood say the initiative has boosted literacy skills both for the kids doing the reading and recording AND for the kids who listen to the books. Browse the library to hear 10 different storybooks, all read by students!
How do YOU use EiE to support ELA instruction? Share your story. If we use it on the blog, we'll say thanks by sending you the EIE Teacher Guide of your choice.
This blog post was first published on 8/25/2015. It has been updated and reviewed for accuracy.
Engineering is Elementary is a project of the National Center for Technological Literacy® at the Museum of Science, Boston.