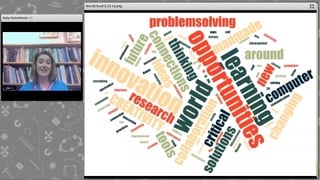 Did you know that each EiE unit was designed to support English Language Arts (ELA) instruction? Our curricula use a diverse
range of fiction and nonfiction video and print media as tools for setting the context for engineering challenges. This crosscurricular approach does more than help kids find meaningful real-world connections—it enhances learning across all subject areas. Join the EiE PD team on Tuesday, January 31st at 6:30 PM EST (3:30 PM PST) as they share their insights about ELA integration in the 60-minute interactive online PD session, "Integrating English Language Arts & Engineering in the Elementary Classroom."
A Webinar Like You've Never Seen Before
"Integrating English Language Arts & Engineering in the Elementary Classroom" is part of our webinar series. EiE webinars are free, interactive online sessions that provide an introduction to engineering education. You don't need to be an EiE teacher to benefit from these sessions! Whether you're a classroom teacher who is new to teaching engineering, a teacher who already makes engineering part of the school day, or a STEM coordinator who supports and coaches elementary teachers, you'll come away with new teaching insights.
EiE and ELA: The Perfect Match!
If you have been asked to integrate ELA into your STEM curriculum, it can be difficult to know where to start. At EiE, the connection between these two subject areas is clear—we know that kids succeed when engineering challenges are contextualized. In this one-hour webinar, you'll explore how kids learning EiE find practical and meaningful connections to the real world as you watch real classroom discussions and examine student work samples that show evidence of kids meeting writing standards. Through these examples of student work, you'll be able to see how integration of engineering and ELA enriches kids' knowledge of and engagement with both subjects.
You're Invited
We can't wait to see you on January 31st. Attendance is limited to the first 100 participants, so we encourage you to register today. If you can't make it to this session, or if you're curious about our previous webinars, check out our Online PD landing page. There, you'll find previously recorded webinars and information about upcoming events.
This webinar is made possible thanks to a Global Impact Grant from Cisco. Engineering is Elementary is a project of the National Center for Technological Literacy® at the Museum of Science, Boston.