Professional development is a great way to boost educator confidence, reinvigorate passion for teaching, and provide students with exciting new ways to approach academic subjects. At EiE®, our professional development approach includes whole-picture learning, providing educators the opportunity to experience our products from the learner's perspective.
Here's what educators around the country have had to say about our professional development resources and trainings:
"I've heard a LOT of positive comments from our teachers both after the June & July trainings, and especially after the August CEI training at the MOS," Doug Dowell, STEM Coordinator and Grant Supervisor for Central Kitsap School District in Washington state, told us earlier this year. "Before the training, there was a mixed bag of feelings/emotions about teaching [computer science], but the majority seemed to have some level of anxiety — from mild to significant. The genesis of this seemed to be primarily rooted in their lack of experience/training in computer science and engineering."
"Afterwards, the general consensus was a feeling of excitement at being able to expose their students to something (CS) that they know they will need in order to be successful in their lives moving forward," said Doug.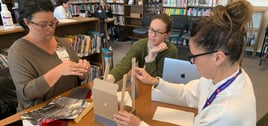 Our industry-leading professional development helps you redefine your role as an educator, whether you're teaching students or facilitating immersive STEM workshops of your own.
"The professional training I received in Boston was probably the best I've had in 20 years of teaching," said William Diaz-Brown, of Willard Elementary in Long Beach, California. "I think your program is wonderful and the staff is world class. If only we could have people of your caliber and programs of your quality in all of the American schools, we would be a shining example."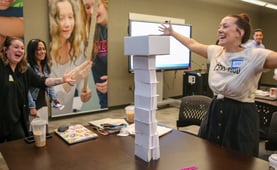 "I like to think I'm an intelligent and capable teacher, but the EiE workshop opened my eyes to what engineering really means. Now, instead of referencing engineering as a career path my students might wish to consider for the distant future, my students ARE engineers, and loving every minute of it." Simone Ryals, Ft. Myers, FL
EiE's professional development workshops, webinars, and on-demand content give you the skills and confidence you need to teach hands-on, minds-on, interactive STEM curricula, including Computer Science and Engineering!
Ready to get started for yourself or your district? Learn more on our site and request a quote for professional development today!