Recently, one of our expert educators spent months coordinating with educators in Paris and Lebanon to bring EiE® units to classrooms in Beirut — that had an "impact beyond expectations," according to educators there.
EiE's expert sales development representative, Barb Meredith, works hard each day answering educator questions about our units and assisting administrators in implementing new resources for their teachers and learners, ensuring they have what they need to be successful with EiE products.
Barb reached out to Mahdi Mansour, an educational consultant in Lebanon, offering any assistance he may need to bring EiE units to schools in Beirut — which started the pair off on a months-long partnership that ultimately increased the engagement of all the students at Lycée National.
"For me, it was just close to my heart since I have such a love for international places and wanting to connect with them and because I believe in EiE so much that I want it to go everywhere."
Mahdi and Barb together coordinated the delivery and implementation of three EiE pilot units for Mahdi's students in Beirut, not long after an explosion in the port disrupted supply lines and made it difficult to get students the equipment they needed.
"During the last 2 months, we worked hard to pilot three EiE units in our school," Mahdi told us. "Personally, I was excited to see EiE in action for the first time in Lebanon and maybe in the region... I can't tell you how much work has been done from the administrative acceptances to the training to the planning to materials preparation to families and school awareness."
"The students loved our The Attraction is Obvious: Designing Maglev Systems units so much, they were exceptionally engaged in the lessons," Mahdi said.
Soon, the idea of missing out on their "special class" featuring EiE's STEM projects quickly became a concern for students who wanted to create and experiment with their classmates, so they were on their best behavior and motivated to complete their schoolwork on time.
"As we are starting lesson two, I feel blessed to see the happiness in our student's eyes!" Mahdi told us. "One of the kids was crying the other day because the school will close for vacation and the class will lose the STEM period!! For me, the core is yet to come, however, the impact is beyond expectations."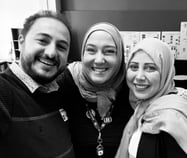 Barb and Mahdi's work to bring EiE to the students of Lycée National will ensure the educators are trained to teach our units for their next classes of students and have helped current students develop the confidence to pursue more STEM learning — creating ripples that will influence the school for years to come.
"It started as a very small idea," Mahdi said. "This one-session class is making a great difference in the school."
Want to learn more about EiE's global reach? Check out our featured stories about EiE around the world on our blog.
How has EiE impacted your teaching? Let us know in the comments!