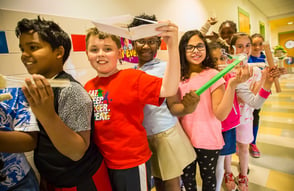 There's nothing quite like a room full of kids testing aeronautical technologies—it's exciting, uplifting, and so much fun! When kids watch a technology they engineered fly through the air, it makes the act of testing designs into a spectacle and helps them visualize the amazing things they can accomplish when they use the Engineering Design Process. Between our in-school curriculum and our out-of-school-time curriculum, there are plenty of EiE units that will help the young engineers in your program soar to new heights.
Engineers to the Rescue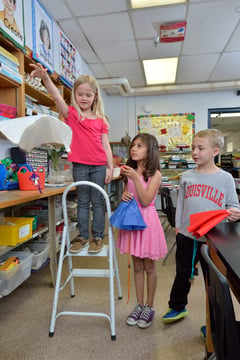 Kids love to engineer things that help people, and our Engineering Adventures unit To the Rescue: Engineering Aid Drop Packages will show your kids just how vital engineers can be in times of crisis. India and Jacob reach out to kids from Thailand when they discover that monsoon rains can cause severe flooding that cuts people off from important supplies. Kids will learn what is important to include in an aid drop package and the mechanics of parachutes, canopies, and wings. Then, they will work as package engineers to design aid drop packages that can be deployed from above without breaking the supplies inside. The potential for supplies breaking makes this design challenge exciting and engaging, and educators have told us that kids feel a strong emotional connection to the context of this unit.
High-Flying Photography
Engineering Adventures is our afterschool curriculum designed for grades 3–5. In the unit The Sky's the Limit: Engineering Flying Technologies, kids join India and Jacob at NASA's Ames Research Lab. They'll learn how NASA scientists study the harshest environments on Earth, like the desert landscape of the Empty Quarter, to understand the environments they might encounter in space. Kids get the chance to engineer their own drop copters and power them by hand and by homemade wind tunnels. Then, they're challenged to design flying technologies to help scientists photograph the Empty Quarter from above. Educators tell us that the drop copter tests are hugely entertaining for kids and spectators alike, and that many kids ask to keep improving their technologies at home!
Blast Off With NASA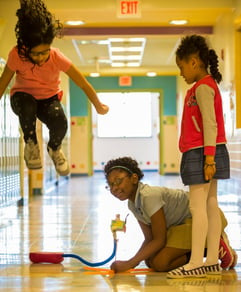 If the kids in your afterschool program have some excess energy to stomp out, try our Engineering Adventures unit Liftoff: Engineering Rockets and Rovers. In this unit, kids learn about rockets, rovers, and aerospace engineering with India and Jacob in NASA's Jet Propulsion Lab and the International Space Station. Then, they are challenged to design rovers that can be used to explore distant planets and rockets to carry the rovers up into space. When kids test their stomp rockets in the hallway or outdoors, they're getting up and moving, and they're fostering collaboration and building confidence—watching the whole group cheer on a team as their rocket reaches "Mars" is a sight to behold!
Just Dropping In
A Long Way Down: Designing Parachutes is an in-school unit designed for kids in grades 1–5 that explores astronomy and aerospace engineering. The context-setting story follows Paulo, a boy from Brazil who designs a parachute to get a heavy fruit down from a tree. Students learn about drag (air resistance) and conditions on other planets, then they are challenged to design a parachute that's out of this world—literally! They'll learn to think like aerospace engineers when they figure out how to land a payload on a planet with an atmosphere that is thinner than Earth's. Teachers love watching and photographing the parachute test, where kids drop their technologies from one story up down to a cheering crowd of their peers. It makes young engineers feel like rock stars! Check out our video of a parachute test below.