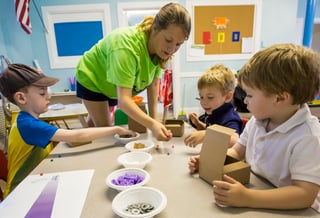 At EiE, we're constantly improving our curriculum as we discover more about how children learn. Our preschool pilot tests have been full of surprises and insights. Our testing has shown us how much preschoolers love to learn, but it's also taught us that sometimes children's knowledge of the properties of materials doesn't override their drive to use the coolest-looking material—at least not at first! Katy Laguzza, the senior curriculum developer and lead of our Early Childhood project, shared a hilarious scene she observed in a preschool classroom that helped our team to understand the unique perspectives of preschoolers. The class was engineering a raft (a CD) to float a toy above water. To make the raft float, they would choose materials to attach to the bottom of the CD using Velcro.

The preschoolers all grab for the neon smiley-face erasers. One boy sticks four erasers onto his CD, puts it in the water, and it sinks. He smiles. Another girl does the same. They both say, "Mine made it float!"
Their teacher comes over and says, "Remember, float means to stay on top of the water. What should we use to make the raft float?"
At first, the kids are not convinced that their rafts are not floating. The teacher continues on. She explains calmly the task again and asks again, "What should we use to make the raft float?"
A boy, who hasn't made anything yet, attaches four smiley-face erasers. Just like his peers. Predictably, the raft sinks again. But unlike his peers, this young boy is willing to try another material.
He puts the corks on his CD. It floats! He puts a frog toy on his raft. It still floats. "This frog makes my raft float!" he says.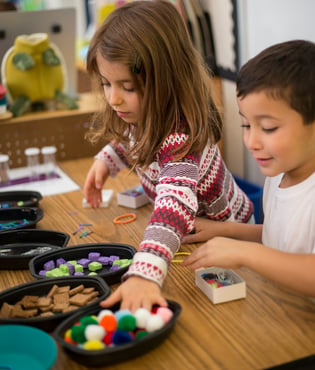 Eventually, every child solves the problem of how to make a raft float a toy above water, but they all need to be reminded what success looks like—and they all have to give the neon smiley face erasers a try first, because they are much more attractive than pieces of cork or foam. This anecdote made us laugh and provided more insight into young children's thinking and inspiration for our curriculum writers. We'll draw on such observations as we create teacher tips that help early childhood educators guide young engineers toward a solution without stifling their boundless creativity.
As Martha Davis, EiE's curriculum manager, says, "When you ask [children] to make something, one of the first things they're going to ask themselves is 'Which one looks like the picture I have in my head?'" We know that we can't override kids' instinct to grab a handful of attractive materials that make a sinking raft, but we've also seen how kids can move past this instinct and create something that works to solve a problem—even if the solution doesn't look picture perfect."
We're looking forward to learning more about how children learn at this young age and how to best develop our early childhood engineering curriculum, coming up in 2018. Check out the brand new video featuring footage from our early childhood pilot tests to learn more about Wee Engineer and see some adorable footage of young engineers in action.
Want to see a sample lesson of Wee Engineer?