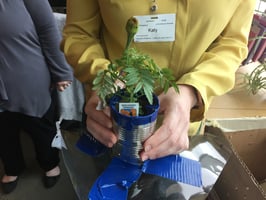 The EiE team works hard every day to produce curricula that will engage young learners and get them excited about engineering. We know that over 13 million children have engaged in EiE, and sometimes, we're lucky enough to see their designs! We love when teachers find us on Twitter or Facebook, or email us to share their students' creations with us. Today, we want to invite you to use our new hashtag for sharing student work—#EiEDesigns. And to celebrate, we're spotlighting an EiE design that got the whole team excited: a very well-engineered plant package sent to us from an enterprising first-grade class!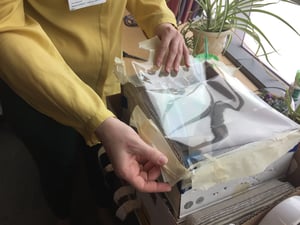 In our unit Thinking Inside the Box: Designing Plant Packages, students are challenged to design a package that can preserve, contain, and protect a plant, while meeting the basic needs of a plant (air, water, and sunlight). In the classroom, students test how well preserved their plant is by leaving it stored in their package for three days, and they test how well protected it is by shaking their package back and forth 10 times and seeing if it tips over. But in an annual tradition, a first-grade class from Ramapo Central School District raised the stakes of their test—they created a plant package that would protect a plant on its journey from Suffern, New York to the EiE office in Boston, Massachusetts!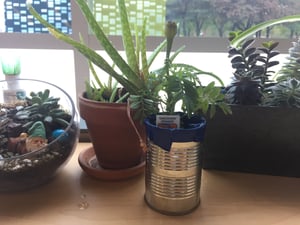 Opening the Ramapo Central plant package is always a big event in our office. The staff gathered around this year's package with bated breath. We all cheered when we found that the plant had survived its trip! The engineering team sent us a marigold, along with a thoughtful note explaining their design choices and a set of drawings. This plant package did it all: it communicated that a plant was inside of it, included a window to let in light, and contained a plastic dropper and vials of water to care for the plant when it arrived. The plant was so well-secured with Styrofoam that it didn't tip over during transit, and the package even included a bell to warn the postal worker that they were shaking the plant around too much! We loved the creativity and ingenuity of the design, and that the engineering team was brave enough to put it to a rigorous test. It has a prized position in our office "garden," and looking at it reminds us what a rewarding job we have!
You don't have to send us a plant package to make our day. We love seeing photos and videos of your class engineering, or receiving letters and drawings about their plans. You can always email us at eiecomm@mos.org or Tweet using the hashtag #EiEDesigns to @EiE_org to share your class's designs with us and with a community of educators. We really do love connecting with EiE educators and seeing all of the creative ways that young engineers are solving the problems set forth in our units. We can't wait to see what your students create!