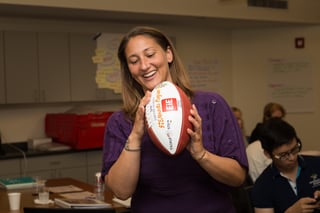 Football season is in full swing and the EiE staff is excited to root for their favorite teams—and to toss around the personalized football that we were happy to receive from our friends at Colorado STEMworks! If the middle schoolers in your afterschool program also have football fever, we have a timely engineering activity for you to implement. Our Engineering Everywhere unit Put a Lid On It: Engineering Safety Helmets introduces youth to the field of biomechanical engineering—a field of engineering that combines mechanical engineering and biology—as they explore the design and construction of helmets. We've found that youth are most engaged with engineering when they're working on problems that connect to their own lives, and Put a Lid On It is the perfect opportunity to engage your kids with compelling real-world connections to football—one of the most popular sports in the United States.
To inspire your budding biomechanical engineers to think outside the box and make connections to their favorite sport, we've compiled real-world examples of innovative helmet design—from the first helmet designs to modern helmet technology—that we discovered at Gridiron Glory, on exhibit at the Museum of Science, Boston through January 7, 2018.
Tackling Technology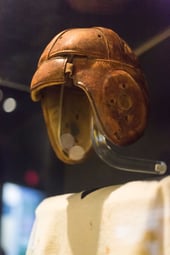 As you move through the lessons in Put a Lid On It, you'll challenge youth to create a helmet that can protect a model head from damage. Their design must also be lightweight, removable, and have a low profile. Football players need helmets as well as pads, mouth guards, and other protective technologies to keep them safe—and the many advances in helmet technology have reflected the growing importance of head protection on the field.
Helmet technology has come a long way since the 1900s, when players wore leather helmets that offered little protection. This early helmet could spark a discussion with your students about properties of materials—what materials are available to us now that could make a safer helmet? How would a helmet made of newer materials be different from or similar to a helmet constructed from leather and canvas?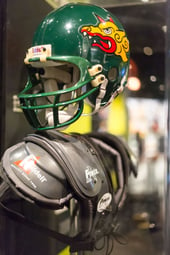 In 1991, players could have donned a helmet with a built-in camera that was powered by a battery located in their pads. This is a great opportunity to discuss tradeoffs with your kids. Do they think players would consider wearing a heavier helmet if it has video capabilities? How could this design be different if created using the materials and technologies available to us today?
Today's helmets look nothing like the early models! Now, some even have internal communication technologies that coaches can use to talk directly to players during games. These helmets are specially equipped with an internal radio receiver. Have your kids think about potential add-ons to helmets that go beyond providing safety—what else might players need while they're on the field? What could the positive or negative implications of those technologies be for the game?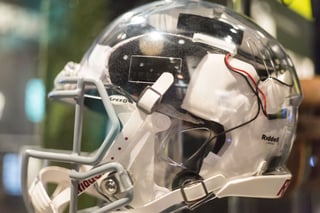 There are plenty of other football-related technologies—like cleats or uniform fabrics—that that can also help spark an authentic conversation amongst your future engineers, and we know you'll see just how powerful real-world connections to STEM fields can be in the classroom.
If you're interested in learning more about our Engineering Everywhere curriculum and Put a Lid On It, you can check out the context-setting video below and download the educator guide on our website.